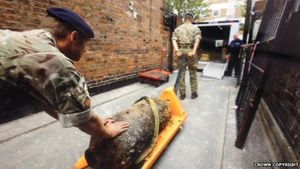 Scores of families in east London were evacuated Monday night as bomb disposal experts were called to defuse an unexploded World War II bomb discovered at a building site.
The bomb was unearthed by contractors working in Bethnal Green just after midday Monday, triggering the introduction of a police hazard zone and the evacuation of 150 local residents.
Sappers were called to the scene at 17:00 BST and worked through the night to defuse the 500lb device.
Families were evacuated to a local school where Tower Hamlets Council set up a rest center. The exclusion zone was also extended to 200 meters from the bomb's location.
"After discussions with the Army, the London Fire Brigade and the Metropolitan Police, we have agreed to extend the exclusion zone to 200 meters," a council spokesman said.
"We understand that this will cause inconvenience for a lot of residents. We urge residents to look at alternative places to stay for the night. We do have an operating rest center at the Bethnal Green Academy - where we will be providing beds, food, drinks and wash bags."
The Ministry of Defence confirmed that a specialist bomb disposal squad was at the scene.
A specialist military bomb disposal team from 11 EOD Regiment, Royal Logistics Corps are on site in Bethnal Green and are assisting the police with the ongoing incident involving a [WWII] German aircraft bomb that was discovered earlier," an MoD spokesman said.
Roads in the area were closed off during the evening, and traffic in the area faced severe disruption, though London Underground and train services remained unaffected.
London Fire Brigade group manager Pat Goulbourne urged people to avoid the area where possible.
"We'd advise that people avoid the area during [Tuesday's] rush hour and use alternative routes," he said.
The bomb discovery comes after a number of similar WWII explosive devices were found in the London suburbs of Bermondsey and Wembley.