Lost in a Roman wilderness of pain
And all the children are insane

- The End, The Doors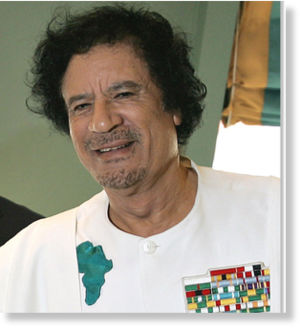 It goes without saying that we rarely get an accurate representation of reality in the corporate media, which is, after all, what independent media exists for.
Last Sunday Joe Quinn and I interviewed a very ordinary couple with a very extraordinary tale: businesspeople James and Joanne Moriarty and how they escaped from capture by Al Qaeda terrorists during the 2011 'Libyan revolution'
. Listening to James and Joanne tell their story, it was impossible not to be struck by the significance, for every human being on this planet, of the problem of psychopaths in positions of power.
The Moriartys present three powerful motivating factors for the destruction of Libya by Western powers and their internationalist financiers:
thwarting Gaddafi's plan to establish a gold-backed currency, to ultimately serve as a pan-African currency and thereby economically unite African nations and free them from Western imperialism;
the US desire to establish AFRICOM (military control of Africa to ward off Chinese investment)
an alleged $7 trillion lawsuit, on behalf of all participating African countries, at Gaddafi's instigation, to sue for damages incurred from broken treaties with European countries during their "colonial era".
So far from "freeing the Libyan people from a dictator", the NATO bombardment of Libya in 2011 was about the maintenance of US and EU domination over Africa.
But what really comes across in this riveting interview with the Moriartys is
the utter recklessness displayed in Libya
(and elsewhere, for that matter) by both NATO and the 'rebel' forces, as well as
the relish with which they demonstrably enjoyed tearing the entire country apart
.
These demented animals have access to unparalleled hi-tech weaponry and vehicles, enabling them to 'achieve feats of destruction' that before only 'the gods' could perform.
Their handiwork is psychopathy writ large, the nihilistic culmination of Western civilization, and the glorious - for them - embrace of the destructive principle.
Running Time:
02:17:00
Download:
MP3