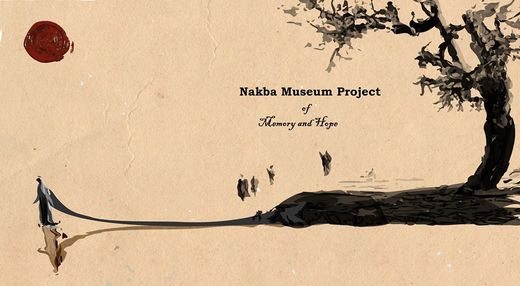 When Bshara Nassar arrived in Washington, DC, he strolled along the National Mall and passed myriad museums dedicated to exposing the painful history of oppressed peoples: the National Museum of the American Indian, the Holocaust Museum, Laogai Museum, the list goes on. He quickly recognized there was no "place for the Palestinian story to be told," which inspired him to launch the first-ever Nakba Museum Project of Memory and Hope.
As Nassar worked on a master's degree in conflict transformation, the thought of a space dedicated to Palestinian voices became a working reality. He was particularly interested in telling the little-known story of the "Nakba," which means "catastrophe" in Arabic. The term is used to refer to the displacement of more than 700,000 Palestinians from their homes in 1948 when the State of Israel was created.
Today, nearly 5 million people, nearly all of them descendants of the original group, are registered as Palestinian refugees with the United Nations.
A non-partisan team of Palestinian and Jewish-American artists formed to support Nassar's dream. One of the artists whose work will be featured in the upcoming exhibit, painter Ahmed Hmedat, curated the show by recruiting other Palestinian artists and helping assemble their work for display. Another collaborator of Nassar's was an American Jewish friend named Sam Feigenbaum, who did the exhibit's website and graphic design.
"I just wanted to prove that somewhere in the world that a Jew and a Palestinian could get along,"
said Feigenbaum, who had first met Nassar several years earlier and got back in touch with him after the outbreak of a war in Gaza last fall.
After a successful fundraising campaign earlier this year, that project will formally launch on June 13, 2015, with the opening of a two-week art exhibit at the Festival Center in Washington D.C.
The exhibit will feature the work of six Palestinian refugee artists. Nassar chose to use their painting and photography as the primary method of telling the refugees' story because art "is a language that everyone can understand."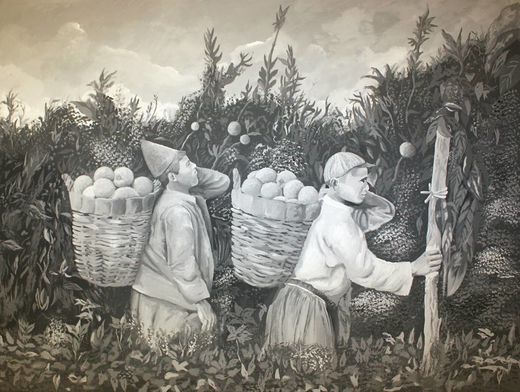 "This is not about victimhood, politics or religion," said Nassar, acknowledging the controversy and divisive rhetoric that often surrounds the issue of Palestinian refugees. "We want deep conversations that can lead to equality and justice in Israel and Palestine.... I'm trying to tell stories that people haven't heard."
The museum will not only be an outlet and platform for Palestinians to tell their story, but also an educational resource for others to recognize the human suffering currently endured by Palestinians under Israeli occupation.
"What's nice about this exhibit is that it uses a means of communication that is not necessarily dependent on language or education. You don't need to know about the Nakba in order to experience it through the art. My hope is that people will see something that hits them on an emotional level, and then start asking questions," he said.
These human stories of loss and suffering, confinement and inequality, must be heard by a global audience to expose the historic and current injustices in Palestine.
Nassar emphasizes that the museum is as much focused on the present as the past, and describes the Nakba as an ongoing event for Palestinian refugees who still live in camps and for all Palestinian people who live under occupation. To address that reality in their own lives, Nassar's family founded an organization called
Tent of Nations
. Based at their 100-acre farm in the West Bank, near Bethlehem, it is dedicated to building respect and understanding between different people and cultures.
That hasn't prevented them from living under constant fear of displacement, however. For years, the family has fought a legal battle in Israeli courts to block plans to seize parts of their land for development, and in 2014,
military bulldozers uprooted 1,500 fruit trees and grape vines
on their farm.
In life generally, and in his efforts to found a museum to tell the Palestinian story, Nassar continues to draw inspiration from a stone at the entrance to the family farm, inscribed with the words, "We refuse to be enemies" in three languages.
The Nakba Museum Project of Memory and Hope debuts at the Festival Center on June 13, 2015, and we invite you to join us at this profound exhibit of truth-telling, hope, and resistance.
Check out http://www.nakbamuseumproject.com for more information and future exhibits.