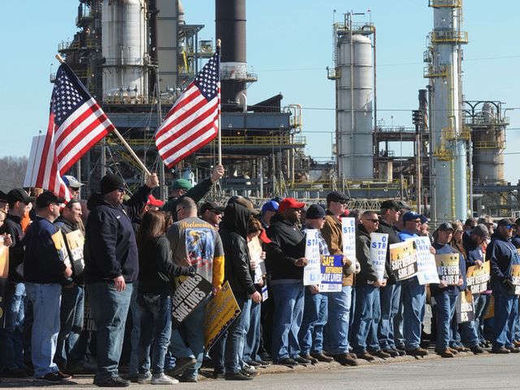 There was a time when this news would have been the biggest story for months in the US. Now it's barely mentioned in US media, buried below 'head-lies' about ISIS boogeymen, kittens,
Nutella
, twerking, and celebrity gossip.
US oil workers on largest national strike since 1980

BBC, 2 February 2015

US union leaders have launched a large-scale strike at nine refineries after failing to agree on a new national contract with major oil companies.

It marks the first nationwide walkout since 1980 and impacts plants that together account for more than 10% of US refining capacity.

The United Steelworkers Union (USW) said it "had no choice".

"This industry is the richest in the world and can afford to make the changes we offered in bargaining," USW International Vice President of Administration Tom Conway said in a statement.

"The problem is that oil companies are too greedy to make a positive change in the workplace and they continue to value production and profit over health and safety, workers and the community."

Royal Dutch Shell, the lead industry negotiator, said it "hopes to resume negotiations as early as possible".
While the strike began on February 1st, it has since grown and is still ongoing.
Ohio workers join US oil refineries strike

Al Jazeera, 9 February 2015

Workers in northwest Ohio have joined the first nationwide strike at US oil refineries since 1980.

The Blade newspaper of Toledo reported that some 100 BP-Husky Toledo refinery workers began picketing at midnight on Sunday outside the plant in Oregon, Ohio.

A local union official said on Saturday night that about 350 workers would be on strike and planned to start picketing around the clock.

The strike began after negotiations with Shell Oil Company, which is also negotiating the national contract for other oil companies, broke down.

The Ohio workers are joining about 3,800 steelworkers who began a strike on February 1 at refineries from California to Kentucky.

The United Steelworkers union earlier notified BP Plc that workers at refineries in Ohio and Indiana would join the walkout.

The union has said workers want better health care benefits and limits on the use of contractors to replace union members in maintenance jobs.

A spokesman for the United Steelworkers told Al Jazeera the strike was not about wages.

"The main thing that we want people to understand is that this is not a financial strike, it's about safety and going home to our wives and our children," he said.

A BP spokesman said the company expects to continue operating with replacement workers and does not expect a significant effect on production.
Of course, it's just business as usual for the Seven Sisters oil companies. If your workers go on strike, rather than listen to them, just bring in contract replacements... which is exactly the kind of short-sighted practice that leads to incidents like this:
Huge Explosion Rips Through California Oil Refinery, Adding Fuel To Oil Worker Strike

ThinkProgress, 18 February 2015

A huge explosion occurred at the ExxonMobil oil refinery in Torrance, California on Wednesday morning, shaking the homes of residents miles away and injuring at least three people.

Aerial photos of the refinery following the incident showed considerable damage. Large metal structures were ripped apart and nearby vehicles were destroyed. A good portion of the refinery was covered in grey ash.

Though fire from the explosion was quickly extinguished, Torrance residents are still being told to remain inside in part due to a resulting gasoline leak.


The workers at the Torrance refinery are represented by United Steelworkers (USW), the same union leading unprecedented oil worker strikes nationwide. Those strikes, the largest of oil workers since 1980, are in part because of what the union sees as dangerous conditions, including leaks and explosions. The union asserts that these dangerous conditions are often caused by improper treatment of workers — unsafe staffing levels, bad training, absentee managment, and "flagrant contracting" number among the union's complaints.

While the workers at the Torrance refinery were not striking, the local USW branch it is represented by — USW Local 675 — is, leading an ongoing strike at the nearby Tesoro oil refinery in Carson, California. On a phone interview with ThinkProgress on Wednesday, USW Local 675's Secretary-Treasurer Dave Campbell said the explosion at Torrance drove home the need for action on behalf of all oil workers who often risk their lives to do their jobs.

"This is one hell of a way to have the point emphasized that we have been trying to make with these companies, trying to make with the public... these safety concerns that we have need to be taken seriously."
In their determination to squeeze Russia into submission, the Seven Sisters are dealing with narrowing profit margins (resulting from the global oil market price they helped to rig) by cutting even more corners at refineries and fueling a downward spiral of strikes, accidents and reduced energy output for a very energy-hungry nation. Talk about cutting off your nose to spite your face.