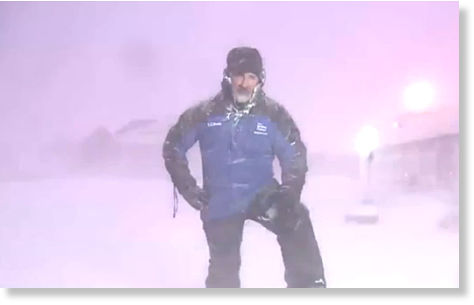 It's always nice to see a man enjoying his job.
Just take the Weather Channel's Jim Cantore as an example. The 51-year-old meteorologist displayed the infectious enthusiasm of a child while reporting on Sunday's blizzard in Massachusetts, US.
In the video below, which has gone viral over the past 24 hours, Cantore can be seen tramping around in knee-deep snow when the screen suddenly flashes pure white in a rare example of 'Thundersnow' - when lightning occurs during snowfall.
"Oh yes! Yes! Yes!" he exclaims. "We got it baby! We got it! We got it! Woo! Woo! We got it! Yes! Listen to that! Listen to that! Oh baby!"
Just as Cantore begins to regain his composure, the screen again flashes white, setting the excitable weatherman off on another bout of wild celebration. "Oh again! Again!" he shouts, throwing a handful of snow into the air. "That's a two-fer. That's a two-fer, baby. Oh my goodness!"
Four further flashes illicit similar exultations, as the meteorologist gives up any pretence of hiding his excitement.