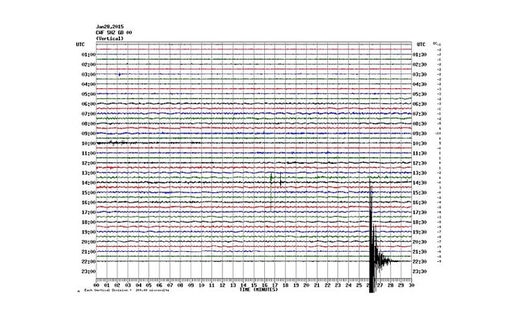 An earthquake measuring 3.8 on the Richter scale has struck in the East Midlands
.
The
UK's second major quake in 48 hours
struck in Rutland at around 10:25pm at a depth of around 10 kilometres, the US Geological Survey said.
According to residents, the tremor shook houses in the village of Cottesmore and the surrounding area. Jonathan Agnew, the BBC cricket correspondent who lives nearby, tweeted: "The earth just moved in the Vale. I mean seriously. Anyone else feel it?"
Others posted photographs of framed pictures hanging on the walls slightly askew to show the aftermath of the earthquake.
Sally Smart wrote: "Earthquake wow that was a biggen!! Thought a truck was coming through the house #adrenalinepumping."
The British Geological Survey (BGS) said: "Just looking into reports of a possible earthquake in the Leics/Rutland area. Watch this space."
Rutland is becoming something of an earthquake hotspot
after
three tremors were reported in two weeks
last April.
It comes after an
earthquake hit Winchester yesterday
with police receiving reports of something which "felt like an explosion which shook their houses".
The quake is believed to have hit the Hampshire town at about 6.30pm at a depth of three kilometres, according to the BGS website.
A police spokesman said that no explanation or cause for the shaking could be found and no injuries had been reported.