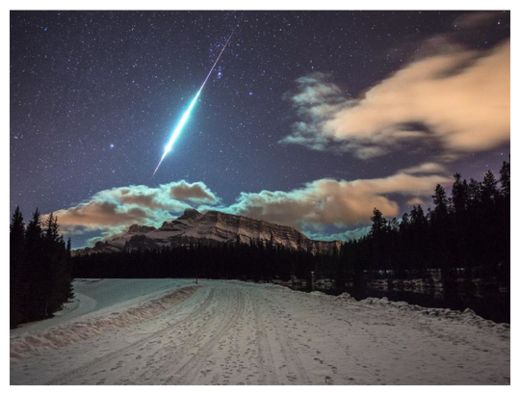 Calgary photographer Brett Abernethy was out in Banff shooting aurora over the night sky early Saturday when he captured what appeared to be a
fireball zipping over the mountains.
Abernethy said he and a fellow photographer were set up at Johnson Lake taking a shot of Mount Rundle at around 1:22 a.m. when the sky lit up.
"
It was like daytime almost.
It fragmented into three pieces. We were both in awe. Then I realized my shot was exposing as it was going on," he said, adding he used a 40-second exposure.
When he looked at the photo he snapped with his Canon 5D Mark III, using a Zeiss 21mm f/2.8 lens, he was pleasantly surprised to see he'd captured a bright light streaking over the mountains.
"I got to a whole level of excitement," he said. "When I was a kid, I remember the light, the sky lighting up once. But I didn't see anything like that, that's for sure."
Abernethy says he went online to see if anyone else caught a glimpse of the light show, but couldn't find any chatter about the event, adding it was early in the morning and many Banff residents may have been asleep.
Calgary astronomer Alan Dyer said in an e-mail that by looking at the photo, it appears to be a fireball, "and a bright one at that - a natural meteor entering the atmosphere and burning up."
It's not clear from the photo if fragments might have survived to reach the earth, Dyer added.