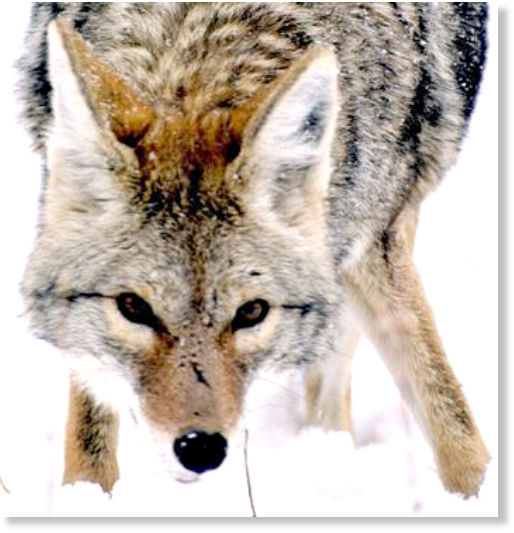 A woman and her dog are recovering after they were attacked by a coyote while walking on their property Monday morning, police said.
Husband fires gun in bid to scare animal away.
A woman and her dog are recovering after they were attacked by a vicious coyote while walking in a field on their property Monday morning.
The woman was returning to her house on Post Road around 9:15 a.m. after taking her dog out for a morning walk when the two were attacked.
"It came charging across the field and was hell-bent on attacking them,"
said the woman's husband, who was armed with a gun when he rushed to their aid.
The attack happened in an open field on the property about 100 yards from the house.
The woman's husband, who asked that their names be withheld, said he was inside their house when he heard his wife screaming.
He jumped into his pickup truck and raced over to help.
As he drove toward them, he kept thinking, "I've got to get this coyote away from them and I've got to be careful."
Coyotes have been seen around the property many times before, but this was the first time one has attacked.
He estimated the coyote weighed about 60 pounds; it was the largest he's seen.
"It was very aggressive. I have never ever seen a coyote attack a person and a 90-pound dog. He was attacking them for a full 10 minutes. He was just circling and circling," he said.
His wife tried to fend it off while the couple's dog, a Chesapeake Bay retriever, struggled to protect her.
"There was something wrong with it," she said of the coyote. "It just charged at us."
Her husband said he fired his gun at the coyote a few times but missed. The gunshots eventually scared the animal off.
His wife and the dog then got into the truck while the coyote scurried away.
She suffered bites on her hand and leg while the dog received multiple bite wounds. The dog was rushed to a local veterinarian while she was brought to Portsmouth Regional Hospital for treatment.
The dog was up to date on his rabies vaccinations, but received numerous stitches.
"He's not a happy boy," the husband said.
The couple must also now undergo a series of shots to prevent rabies.
Even though he wasn't bitten, the husband said he ended up with some blood on him from the attack. Drops of blood were still visible on the patio of their home Monday afternoon.
Greenland police and Fish and Game officers were called to the home after the incident.
"I think it's important for people to realize that wildlife is wildlife and there's a variety of different things that can cause them to react," Greenland Police Chief Tara Laurent said.
It's not known why the coyote attacked.
It's possible that it was trying to protect a nearby den or a food source that was recently killed, she said.
The property consists of about 100 acres and has large open spaces, Laurent said.
Laurent said this is the first coyote attack she's investigated in her 18 years in law enforcement.
Meanwhile, the woman who was attacked was too shaken to talk much about the ordeal.
"She'll be shook up for a long time," her husband said, adding that he and his wife are licensed to carry firearms and will make sure they're armed when they're out around the property in case the coyote returns.
"For a coyote to attack an adult and a 90-pound dog in a field is extremely rare. Coyotes don't do this. As soon as they see a person they run the other way about as fast as they can." he said.
Coyote sightings are not uncommon in the Seacoast area.
Last Thursday, a Portsmouth woman reported seeing a large male coyote about 15 yards from her Martine Cottage Road home.
Beth Simpson let her dog out into her backyard at about 6:30 p.m. Thursday night and then noticed the dog had returned to the sliding glass door and was looking out into a field.
Simpson said she looked outside and saw the coyote staring at her dog.