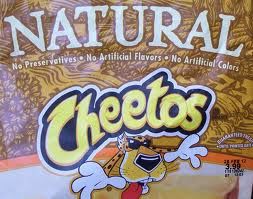 With consumers confusing natural and organic, the feds must not remain silent any longer.
The natural products business is booming. By some industry
estimates
, retail sales topped an eye-popping $100 billion last year, with nearly
60 percent coming from food
. No wonder more food marketers are labeling their products - from
Pepsi
to
Cheetos
- natural. But what does the term actually mean?
Despite the term's popularity - or because of it - there is no official definition of "natural." With the potential to deceive consumers, the issue is now reaching a breaking point. The proposed solutions from trade groups, lawyers and government agencies range from defining the term to suing over it to ignoring it. Some consumer-advocacy organizations are even
calling
for a complete ban on the use of "natural" in labeling. But such disparate approaches won't help shoppers become any less confused and may even make the problem worse.
One group that wants to define "natural" is called the Organic and Natural Health Association (ONHA), a brand new trade group whose
mission
includes "creating and promoting transparent business practices that safeguard access to organic and natural food, products, and services." I recently attended
Supply Side West
, an ingredient trade show, where ONHA hosted a panel about its plan to create a
Natural Seal certification
based on "objective and transparent criteria." CEO Karen Howard
said
that "defining the word 'natural' has become a priority for the natural products industry" and that her group plans to "take swift action." (By swift they mean by the end of 2015, Howard told me.)
One of the panelists was Todd Harrison, president of the ONHA board and an attorney with the Venable law firm, which represents industry players in the
food and dietary supplement
sectors. Harrison said,
"We need a definition of 'natural' because there is too much litigation going on" and without it, "plaintiffs' lawyers will continue to exploit the loophole; we need to eliminate the lawsuits."
According to some
estimates
, about 200 lawsuits have been filed based on deceptive labels. Some
cases
are over "natural" foods containing genetically modified ingredients, while
others
object to using "natural" for products that have various synthetic additives. Despite the lawsuits, and even after being expressly
asked to do so
by at least one federal court, the U.S. Food and Drug Administration has so far
declined
(PDF) to define "natural," except to
say that it does not object
to the use of the term for foods that do not "contain added color, artificial flavors or synthetic substances."
The agency's assistant commissioner for policy, Leslie Kux,
explained
that, given the FDA's "limited resources," the issue is just not a priority.
Meanwhile, the
Natural Products Association
, an established trade group with 1,900 members, has
announced
its own plans to adopt a definition for natural food. The group already has a
seal program
for natural home care and personal care products. So we have at least two trade groups in a race to define "natural," potentially muddying the waters even more if both seals are ultimately in the marketplace.
Confusion with organic
Whoever defines "natural" will have to contend with distinguishing the term from "organic," which has a very specific and robust
legal definition, thanks to federal standards
from the U.S. Department of Agriculture. (For example, organic production does not allow the use of synthetic pesticides or genetic engineering.)
Consumer
surveys
consistently show that shoppers conflate the natural label with organic (some even
prefer
natural over organic, probably because of organic's typically higher prices), giving an economic advantage to less expensive products from food companies that don't want to spend the extra money sourcing organic ingredients or obtaining organic certification. Why bother when you can just slap a meaningless "natural" label on your product and get the same marketing bump? However,
organic does not automatically mean healthy: It's entirely possible for
over processed junk food
to be certified organic.
Still, many consumers have very specific expectations for how natural products are made. A recent
survey conducted by Consumers Union
found that about two-thirds of those polled believe "natural" means a food contains no artificial ingredients, pesticides or genetically modified organisms; just as significantly, more than 80 percent believe that natural foods should not contain such items. This is important because consumer understanding is critical to creating a meaningful definition of "natural." And herein lies the rub:
If organic standards already require that such foods are not made with genetically modified ingredients or synthetic pesticides, do we really need to define "natural," or do consumers just need better education on organic standards? Moreover, why hand the food industry a cheaper version of organic?
That challenge is why Consumers Union wants a complete ban on "natural" labeling. According to the group's
petition
(PDF), rather than setting standards for "natural," "we urge the FDA to prohibit the use of the 'natural' label, since other label programs are already in place that come much closer to meeting these consumer expectations and have frameworks for continuous improvement to be made in the standards."
While a ban on "natural" labels sounds good, it's highly unlikely the FDA would ever go that route, for both political reasons and the potential legal challenge.
The First Amendment protects commercial speech for advertising, under which "natural" labeling falls. Consumers Union argues that "natural" labeling is "false and misleading," which the FDA does not allow. While it is true that false or inherently misleading advertising does not get First Amendment protection, according to
Ted Mermin
, who teaches Consumer Protection Law at the University of California at Berkeley, a complete ban on the term could still be an uphill battle legally. He told me that while surveys and lawsuits showing that the term "natural" deceives consumers in specific uses will help in a potential First Amendment challenge, "establishing that every use of the term is therefore misleading could still be difficult." In other words, an FDA ban on "natural" labeling could get struck down in court, and then we would be right back where we started.
Can FDA clean up this mess?
Standing apart from the Consumers Union approach, as well as the trade-group attempt to define "natural," is the Center for Science in the Public Interest (CSPI), which has
filed
several lawsuits against food companies for deceptive natural labeling. In an article published recently, CSPI argues that the FDA should define natural, outlining an approach it calls "negotiated rulemaking," a consensus-based process in which all stakeholder interests are considered. While this sounds great in theory, the politics of food dictates a less than fair outcome for consumers. Moreover, given the FDA's current
unwillingness
to require labeling for genetically engineered food despite consumer outcry, it seems highly unlikely that a definition from the feds on "natural" would exclude GMOs.
However, if a strong definition is adopted by a sector of the food industry, even voluntarily, this could provide a reasonable starting point for an FDA approach. That's what ONHA's Howard
hopes
will happen - that FDA or Congress will down the road "at least consider the standard that has become most known."
Given the alternative of the status quo of consumer confusion, let's see what the trade groups come up with and hope one of them can accomplish a meaningful definition that does not undermine organic. In the meantime, litigation will continue to be the only way to hold deceptive food marketers accountable. We've already seen some companies
agreeing to remove
the "natural" label form their products and others being
advised to stop using
it. (Cheetos is now
labeled
"simply" - another way to imply a less processed food.) While far from a perfect solution, litigation remains the best tool we currently have to keep some companies honest.
About the author
Michele Simon is a public health lawyer, the president of
Eat Drink Politics
, the author of
Appetite for Profit: How the Food Industry Undermines Our Health and How to Fight Back
and an attorney with
Foscolo and Handel
, the food law firm.