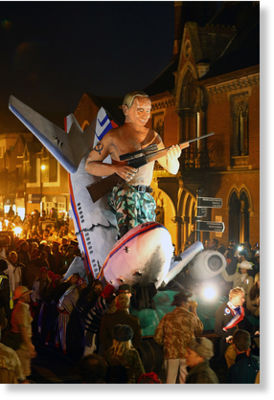 Two effigies of Russian president - one of which shows Mr Putin standing astride Malaysia Airlines Flight MH17 - draw ire of Russian social media users
Images of two Bonfire Night effigies of Vladimir Putin in a "mankini" on a tank and astride a model of the Malaysian jet allegedly shot down over Ukraine have stirred passions on social media.
The effigies of the Russian president - each several yards high - were towed through the streets of Lewes in Sussex, on Wednesday as part of the town's annual extravaganza to mark the anniversary of Guy Fawkes's Gunpowder Plot.
Some bloggers applauded the satirical figures - which were apparently burned - while others suggested they were misguided, insulting or lacking in taste.
Russian speakers on Twitter were particularly incensed by the display.
One of the Putin effigies was bare-chested and holding a hunting rifle in a copy of his well-known Siberian photography sessions. He rests his right foot on a disintegrating model of Flight MH17, the Malaysia Airlines passenger jet which plummeted to earth in Ukraine with the loss of 295 lives in July, allegedly after being shot down by pro-Russian rebels.
"
This is what people get up to when they've got nothing better to do," said one Twitter user in Russian. "Retards!
"
Another wrote: "
Idiots, it was the Ukrainian Armed Forces who shot down MH17
."
Igor Chirok, who normally tweets in Russian, wrote in English: "West tries to shift the blame for their crimes on Russia."
One user apparently based in the UK said she was unsettled by the use of the Malaysia Airlines model. "That seems to trivialise deaths of more than 200 people, although I'm sure not the intention," she said.
Another warned: "Better watch out. Russia might invade."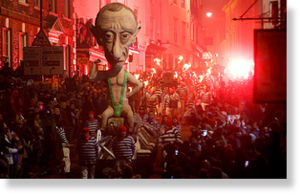 The effigies were popular with Ukrainian tweeters. "Just epic," wrote one.
The Kremlin did not comment on the effigies, but Dmitry Peskov, Mr Putin's spokesman, said on Thursday that the president was frequently targeted for "ad hominem attacks" in the West because he was a powerful leader.
"A strong leader capable of consolidating a significant part of society around him, the majority of society, is of course uncomfortable for those who would prefer to deal with a pliable Russia, which she is not,"
Mr Peskov told reporters in Moscow.