"You don't know whether to laugh or cry," says the Canada Palestine Association in Vancouver, in reaction to B'Nai Brith's nomination of Stephen Harper for a Nobel Peace Prize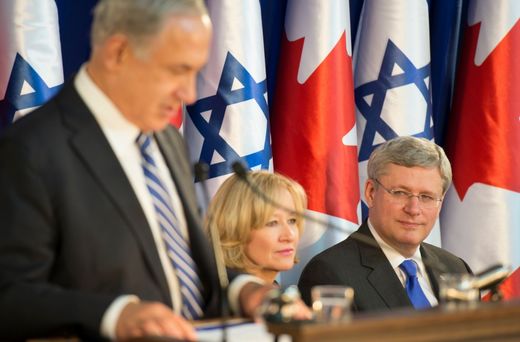 Strong reaction to a national Jewish organization's nomination of Prime Minister Stephen Harper for a Nobel Peace Prize continues to mount.
On Friday, the head of B'nai Brith Canada announced his intention to put forward Harper's name for the world's most prestigious peace prize, for his "outstanding moral leadership" in support of Israel during its conflict with Hamas militants in Gaza.
"Moral clarity has been lost across much of the world, with terror, hatred and antisemitism filling the void," said Frank Dimant, CEO, B'nai Brith Canada, in a statement.
"More than any other individual, he has consistently spoken out with resolve regarding the safety of people under threat - such as opposing Russian aggression and annexation of Ukrainian territory - and has worked to ensure that other world leaders truly understand threat of Islamic terrorism facing us today," Dimant added.
The news was more than a representative of the Canada Palestine Association could bear.
"With nominating him, you don't know whether to laugh or cry," said Hanna Kawas, Vancouver chairperson of the organization, on Sunday.
"
It's outrageous
."
Online petition protests the Harper nod
An
online petition
asking the Norwegian Nobel Committee to deny Harper's nomination now has 13,000 signatures, mostly from Ontario and British Columbia.
Kawas -- who is also a long-time Vancouver radio broadcaster for "
Voice of Palestine
" - said the Prime Minister's steadfast political and diplomatic support of Israel
makes him complicit in the actions taken by Israel in the conflict
.
The war started in July, with Israel military undertaking air strikes and ground attacks, and Hamas militants firing rockets into Israel. More than 2,000 Palestinians and 69 Israelis perished, according to government tallies on both sides of the conflict.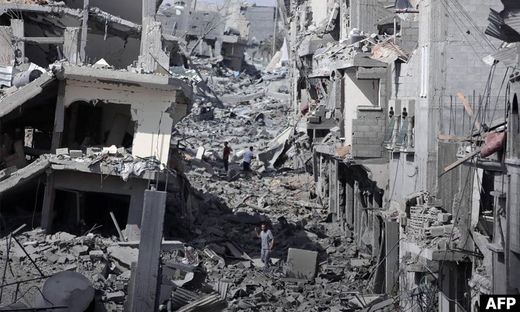 As terrible images of the battles were sent across the globe, leaflets were even spread throughout Vancouver streets this summer, showing gruesome casualties among women and children.
The Conservative Party of Canada has made its support of Israel,
central to its messaging
of late. The party published a Youtube video showcasing Harper and his foreign affairs minister, John Baird, patriotically backing Israel.
At the start of the conflict, western leaders, such as President Obama, had condemnations for both sides, especially as civilian deaths rose.
Harper's comments were solidly in support of Israe
l:
"Canada is unequivocally behind Israel. We support its right to defend itself, by itself, against these terror attacks, and urge Hamas to immediately cease their indiscriminate attacks on innocent Israeli civilians.

Comment: There is nothing "unequivocally" Canadian behind Harper other than the usual suspects. Harper is a liar in the extreme.

"Canada reiterates its call for the Palestinian government to disarm Hamas and other Palestinian terrorist groups operating in Gaza, including the Iranian proxy, Palestinian Islamic Jihad," said the Prime Minister in a statement at the time.
Comment:
Harper makes it sound to the world that Canadian's are behind him as he shills for his selected pals from Israel to help clean their bloody hands. Harper is contemptuous of Canadians, in fact, under his mask, he is totally invested in
Ponerology's macrosocial evi
l. Being nominated for a peace prize is as Orwellian as it gets, there just are not enough barf-bags to go around.
Harper made his first state visit to Israel and the West Bank in January.
The latest ceasefire in the summer conflict took effect Tuesday.
Kawas points to
research
, dated 2009, showing "
200 Canadian companies" that have been permitted to sell military exports to Israel
.
Comment:
In Harper, Bibi could not have a better war-whore friend. Although Harper may be the Canadian PM, he primarily represents the corporate interests of Wall Street's equivalency, Bay Street. He is by far a horror unleashed upon Canadian's and he wears his mask of sanity ever so smugly for his
right wing authoritarian followers
(RWA's).
It was not so long ago that
Obama
made off with his Nobel Peace Prize and quickly proceeded to lay waste to a long list of sovereign nations.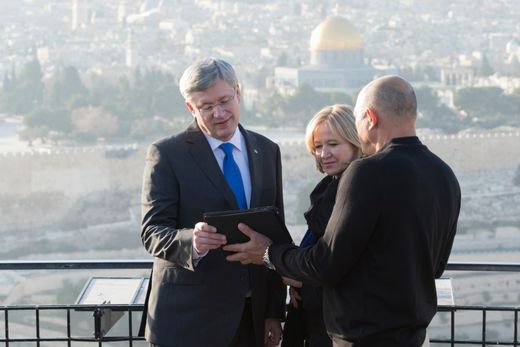 Comment: The past has shown that the Nobel Peace Prize has been awarded to some very unworthy and scandalous people, to many it has become a joke. This year there are 278 names nominated. Of people who could be considered worthy, Russia's President Vladimir Putin has acted most nobly in his efforts to shed light on the lies and foster peace, as best he can. All the stops have been pulled by the west to ensure he is vilified at ever turn, with lie after lie.