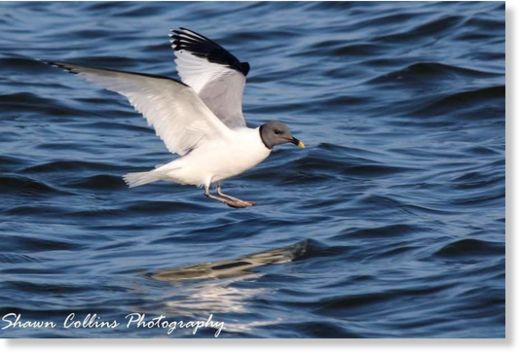 Visitors to Pymatuning State Park have been greeted in recent weeks by a very rare guest, Sabine's gull. Other rare guests may soon follow.
"Sabine's gull has been attracting birders from all over the area," said Meadville photographer Shawn Collins.
"The gull is normally only found out west, Alaska and northern Canada.
I was able to capture some photographs near the spillway area."
Collins says he has been a birder for most of his life and in recent years began to learn the skills of a photographer.
"It was just great to be able to photograph this bird right here at Pymatuning."
The Audubon Society in Meadville is aware of the rare bird at Pymatuning.
"It's just a beautiful bird," said Sarah Sargent, of the Audubon Society. "It's a good looking bird in its breeding plumage."
According to Linda Armstrong, environmental education specialist, there have been numerous people watching the bird and some of have made posts to the park's Facebook page.
"I haven't had the opportunity to go see the Sabine's gull, but I am planning on getting to the spillway," Armstrong said. "
It is a very rare bird for us here. It seldom leaves its arctic breeding grounds.
It may have been blown here because of some of the rather severe storms they are having out west."
According to Armstrong, Sabine's gull is usually a solitary bird, sometimes gathering in small groups.
"It's the only gull with a forked tail," she wrote in an e-mail. "On the tundra coastline, it gracefully plucks small crustaceans and insects from the surface of the water. It also takes eggs from nesting Arctic Terns. Their three or four olive-brown eggs, spotted with darker brown, are placed in a grass-lined depression on the ground. Since it nests in the arctic tundra, there are no trees, so it has to nest on the ground."
In related birding news, another guest species could soon be making an appearance in many backyards. Keep the hummingbird feeder filled.
"In the fall we recommend keeping the hummingbird feeder up through the end of October," Sargent said. "We can get late migrants coming through, including more and more of the rufous hummingbird, a western species that now seems to be coming to Pennsylvania regularly in the fall. With the feeders still in place, people just might be lucky enough to see and host a rufous hummingbird for a few weeks in the late fall."
Last winter, another Arctic visitor spent time at Pymatuning, the snowy owl. It's not certain at this point if they'll return to enthrall nature observers again this winter.
"If we have another harsh winter, they may make another appearance and it would be great to see them again," Armstrong said. "But at this point anyone's guess is as good as mine if we'll see them this year."