Islamic State jihadists have released a video which they claim shows the beheading of a 44-year-old British aid worker, David Haines, who has been held hostage since his abduction last year.
The masked man in the latest video released across social media on Saturday night claims that Haines was killed because of UK Prime Minister David Cameron's pledge to arm Kurdish forces in order to battle the jihadist group, according to reports.
"
This British man has to pay the price for your promise, Cameron, to arm the Peshmerga against the Islamic State,
"
the executioner said, according to
liveleak
.
"
My name is David Cawthorne Haines,
"
the hostage reportedly said before the execution.
"
I would like to declare that I hold you, David Cameron, entirely responsible for my execution. You entered voluntarily into a coalition with the United States against the Islamic State, just as your predecessor, Tony Blair, did, following a trend amongst our British Prime Ministers who can't find the courage to say no to the Americans.
"
The footage could not be immediately verified. However, the video footage was similar to that of the executions of two American journalists,
James Foley
and
Steven Sotloff
, by Islamic State militants.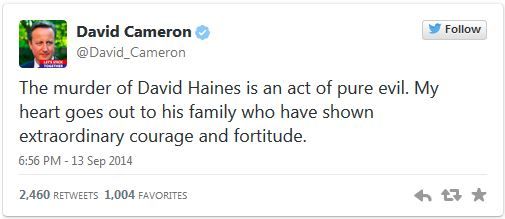 The UK Foreign Office said it was
"
working urgently
"
to verify the video, adding that Haines's family had already been informed.
"
If true, this is another disgusting murder. We are offering the family every support possible. They have asked to be left alone at this time,
"
the statement said.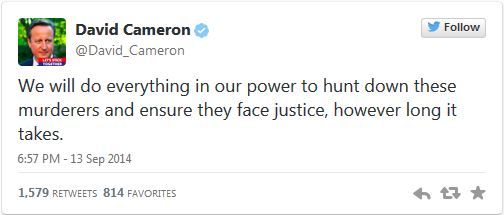 The British PM will determine the government's response following an emergency meeting of the Cabinet Office Briefing Room (COBRA), on Sunday morning.
Hours before the news of the execution emerged, Haines' family had asked the hostage takers to contact them to discuss ransom for the British health worker, which IS had previously demanded.
"
We are the family of David Haines. We have sent messages to you to which we have not received a reply. We are asking those holding David to make contact with us,
"
a statement on behalf of the family by the Foreign and Commonwealth Office read.

The 44-year-old Brit was seized by the Islamic State militants in Syria in March 2013 while employed by the Agency for Technological Cooperation and Development (ACTED). The father of two was taken hostage alongside his Italian colleague, the organization's coordinator, Federico Motka, on their way to the Turkish border.
Motka, who allegedly shared a cell with Haines, was freed in May after Rome authorized a ransom payment to the Islamic State.
Haines has made a successful career as a humanitarian aid worker since 1999 and has worked in conflict zones in Africa, the Balkans and the Middle East. Haines' employer said last week in a statement:
"
A man's life should never be threatened on account of his humanitarian commitment.
"