Israel is targeting journalists in the Gaza Strip like it did during its last two major attacks on the 1.8 million Palestinians there.
Since the current assault began on 7 July, Israel has killed at least seven Palestinian journalists and media workers and directly struck at least four media offices
. The latest journalist to be killed, Rami Rayyan, was reporting on families going to the market during what they thought was a four-hour ceasefire on Wednesday afternoon when Israel
shelled
the
Shujaiya
market.
The Electronic Intifada spoke with journalist
Yousef Al-Helou
just after the attack.
"Journalists say it is an Israeli attempt to silence the truth,"
Al-Helou said. "But Palestinian journalists are determined to continue their work because they say that it is their duty to expose Israeli actions in Gaza that amount to war crimes." (Listen to the full interview with Yousef Al-Helou via the audio player at the top of this page, or
read the rush transcript below
.)
Attacks on media centers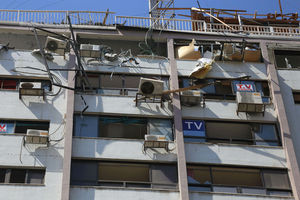 On Tuesday, 29 July, Israel
bombed an Al-Aqsa TV office
in the northeast part of Gaza City.
Forty-five minutes later
, in another part of the city, Israel struck an Al-Aqsa radio office. No one was killed in those attacks, but the offices suffered damage to their media equipment. Both the TV and radio stations resumed broadcasting after brief interruptions.
Last week on 27 July,
an Israeli rocket hit another Al-Aqsa TV office
, and on 22 July the offices of Al Jazeera
were struck
.
While the Israeli military apologized for firing at Qatar-based Al Jazeera, calling it an "
error
" and claiming that the military would "investigate" the incident, Israel has not conceded responsibility for hitting the Palestinian broadcasting networks.
In an
emailed statement
, the Israeli military justified the strikes, saying they were aimed at "the propaganda dissemination capabilities used to broadcast the messages of [Hamas'] military wing."
The journalist Yousef Al-Helou said that Palestinian journalists have received text messages warning them of their danger: "Now the Israeli army has sent six messages to journalist in Gaza ordering them to stay away, or saying that the Israeli army will not be responsible for your safety."
Killing journalists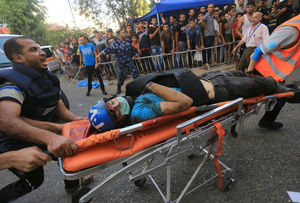 Also on 29 July, in separate attacks,
two media workers were killed
.
Israel struck the home of Ezzat Abu Duhair, 23, a correspondent with Al-Huriya Media Network, killing him and four other members of his family. Bha'a al Graieb, 59, the manager of the Hebrew news department of Palestine TV, was also killed by an aerial strike while he was taking his daughter to a hospital in Rafah City.
On 9 July, Israel shelled the car of journalist Hamed Shehab while he was driving home in a car clearly marked as a media vehicle, the word "TV"
printed in red on it
.
Shehab, 27
, worked for the Gaza-based outlet Media 24. Shehab was killed in the strike.
Journalist
Khaled Hamad
was killed in the
Shujaiya massacre
in eastern Gaza City on 20 July, and on 24 July, media worker
Abdurrahman Abu Hina
, 28, was killed when Israel shelled his house in the same neighborhood.
And on Wednesday evening, Israel reportedly shelled a market filled with people in Shujaiya, killing
at least seventeen
, including journalist Rami Rayyan.
War crime
Whereas some international journalists have the ability to inform the Israeli military of their whereabouts to ensure greater protection, Al-Helou says that many Palestinian journalists are now reporting from secret locations, believing that Israel may seek to target them.
The targeting of journalists is a war crime, including those who are said to work for a regime-run outlet
. In a
statement issued on Tuesday
, Reporters Without Borders asserted:
"The fact that media serve as propaganda organs does not justify making them a military target. An expert committee formed by the International Criminal Court's prosecutor for the former Yugoslavia, to assess the NATO bombing campaign of 1999, specified that a
journalist or media organization is not a legitimate target merely because it broadcasts or disseminates propaganda."
But Israel has defended its targeting of Palestinian journalists.
In its previous two massive assaults on Gaza, in winter 2008-09 and November 2012, the military targeted news outlets and killed Palestinian journalists. On 20 November 2012, the Israeli military struck a car in which two Al-Aqsa cameramen were riding,
killing both
.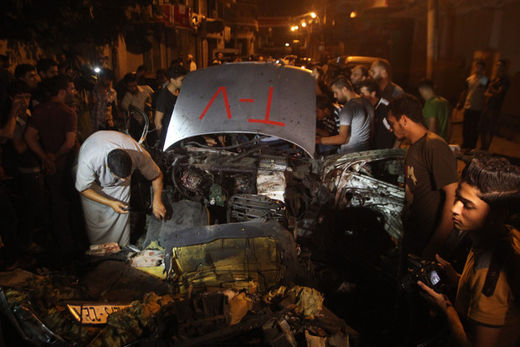 A day before the Al-Aqsa media car was struck in 2012, Israel had shelled another media building in which several outlets held offices, injuring
eight journalists
.
After that attack,
Mark Regev
, spokesperson for the Israeli prime minister, appeared on Al Jazeera English where he was pressed about Israel's seemingly deliberate attack on the media. Regev defended his state's actions, declaring that journalists working for Al-Aqsa were "not legitimate."
"Just as in other totalitarian regimes, the media is used by the regime for command and control and also for security purposes," Regev
stated
.

Comment: See, it's perfectly ok to murder another country's journalists if you don't like what they are reporting , says "the only 'democracy' in the Middle East". Freedom of the press is just a nice sentiment.


A military investigation into the November 2012 incident was never concluded.
Highlighting the Israeli military's nonchalant attitude toward conducting internal investigations, Israeli media watchdog group Seventh Eye made repeated inquiries to the army throughout 2013 about the investigation's progress, but received no answer. According to
an account by Israeli journalist Noam Sheizaf
, a military representative finally responded to Seventh Eye's Oren Persico, asking him why he was "so interested" in an incident that happened "about a million years ago."
No consequence
Israeli military impunity benefits from the short memory of the media and so-called international community.
The most recent attacks on journalists can be seen as a continuation of this long pattern of committing the crime of targeting journalists with no consequence.
In February 2013, the Committee to Protect Journalists repudiated the Israeli military for failing to investigate killing of Palestinian journalists and then
revealed
this history:
In 2001, the Board of the Foreign Press Association condemned an IDF [Israeli military] report on the shootings of several journalists in 2000, noting that the investigation took 14 months, and with a single exception turned up no guilty parties. In 2008, we urged Israel to release results of its army investigation into the killing of a Reuters cameraman; in 2009, we condemned the IDF for firing a missile directly at a Gaza City building housing multiple news organizations. In 2010, CPJ protested IDF attacks on several journalists in the West Bank and demanded an investigation, but no explanation has been given.
It must be noted that many more media workers have also been wounded in Gaza and the West Bank. Reporters Without Borders
reported
that seven Palestinian journalists in the West Bank have been injured by Israeli forces since the Israeli offensive on Gaza began.
Rush transcript: Yousef Al-Helou
Yousef Al-Helou spoke to The Electronic Intifada from his home in the Gaza Strip about the situation for journalists in Gaza, the threats faced by Palestinian journalists, the different protections for Palestinian and international journalists, and how journalists are staying safe while still reporting.
Charlotte Silver:
Can you start by introducing yourself and telling me where you are right now and what the situation is like?
Yousef Al-Helou:
This is Yousef Al-Helou, a Reuters journalist and fellow. Israeli occupation forces just committed horrific massacre killing at least seventeen people and injuring over 200 when they attacked civilians as they were going to stock up supplies assuming the four-hour humanitarian lull was going to be safe. It wasn't safe for them. So there is a state of anger and frustration and outrage and people are asking the resistance to retaliate. It's horrific, honestly. People cannot get it. How can the international community not be mobilizing and intervening to pressure the Israelis to stop this genocide against the defenseless Palestinian civilian population in the besieged Gaza which has been under Israel's crippling siege for the past seven years.
CS:
I understand that a journalist was killed in this latest attack. Do you know who it was?
YA:
Yes, he is a journalist that works for a local news agency. He is the third journalist to be killed in this aggression. He was covering how people were behaving during this humanitarian ceasefire. Normally, when the ceasefire is announced, people go and check what happened to their property, to their houses. They go stock up supplies, they go visit the injured in the hospitals, those whose loved ones are injured.
Really it's shocking.
CS:
Israel has targeted Palestinian journalists in the past and yesterday targeted Al-Aqsa media centers. What do these attacks mean to you as a working journalist there?
YA:
Journalists say it is an Israeli attempt to silence the truth. The attack that took place yesterday targeting the rooftop of a media building that housed some of local and international media outlets, targeting Al-Aqsa radio which is controlled by Hamas - that was not the first time. Now the Israeli army has sent six messages to journalist in Gaza ordering them to stay away, or saying that the Israeli army will not be responsible for your safety. This SMS message was sent to journalists in Gaza, I don't know how they got their numbers, but they have their own way to reach the journalists. But that was also a threatening message to scare the journalists. So as I said this is not the first time and journalists know they could be a target.
In the previous two wars also media was targeted. So people, journalists, know they are not immune from this. One of the local, well-known media outlets, Al Jazeera was shot at. Despite the fact that journalists take extra precautions, wearing a vest or a helmet, but there is no guarantee that they won't be targeted.
CS:
Were international and Palestinian journalists both given that SMS message?
YA:
I'm not sure. It is for a fact that local journalists received that message.
But Palestinian journalists are determined to continue their work because they say that it is their duty to expose Israeli actions in Gaza that amount to war crimes. Some of the journalists have families, they've lost members of their family. So this will make them even more determined in their duty.
CS:
Can you tell me what are you and other journalists are doing to stay safe while also reporting in Gaza right now?
YA:
Well, normally journalists try to - I don't know there is no safe place anyway - but some chose to be at
al-Shifa hospital
to report live or interview officials or interview people. Some stay in the office in the media building, to report or write their scripts or stories. But of course no one dares to reach the border areas, because of the constant, random tank shellings, and bombardment from their air and sea. Journalists, as I said, wear the protective gear. Israeli drones monitor what is happening in Gaza, but there is no guarantee.
At the end of the day, Palestinians are part of this society in Gaza, but somehow if you go back to an incident,
an execution of a Palestinian
[by an Israeli sniper], who was wearing a green top. He was escorted by a number of international activists, so the Israelis could identify who was a foreigner and who was a local.
If that local was wearing a yellow vest, it's likely he wouldn't be targeted. That shows that Israelis are targeting local - local people - assuming that Palestinian blood is cheap.
CS:
How else are Palestinian journalists more at risk than international journalists right now?
YA:
There is no guarantee. Sometimes international reporters come under fire. But I think international reporters are in contact with the Israeli army to let them know that they are going to go to that area, for example. Western journalists are in touch with their media corporations in occupied Jerusalem or [the] West Bank and they tell the Israelis that they are going to cover that area. Sometimes the Israeli army shoots in the air to deter them and force them back. But I'm sure international reporters wouldn't put themselves at risk. so I'm sure they are in contact with their sources on the other side of the border to make sure they are not targeted. Of course no one can reach the areas on the border.
CS:
How are people in Gaza getting their news right now? What outlets are the most important for people to know what's happening in Gaza?
YA:
It's really difficult for locals to keep up to date with what is happening. Obviously because they do not have electricity. Israeli forces targeted Gaza's only power plant. This means they cannot watch TV, they cannot listen to the local radio station and, most importantly, they cannot recharge their mobile batteries. Landlines do not work in most areas. It's very difficult to reach people in certain areas, so people are totally isolated from what's going on around. They're totally isolated from the outside world. The Internet is really slow and in many cases, the wires and network is damaged. The transmission towers were targeted or damaged. So the electricity problem is really making things very difficulty to communicate.
CS:
Israel has targeted Al-Aqsa media in the last three attacks and they always give the excuse that it is a Hamas-run outlet. Can you tell me about this outlet and what kind of reporting they are doing right now?
YA:
Hamas bought two outlets, the local radio station, call Al-Aqsa Radio, and also TV station called Al-Aqsa TV. Yesterday, the Israeli military targeted Al-Aqsa TV but they continued to transmit, and the radio stopped working. Israel is accusing Hamas as inciting against Israelis. It's not that. The local radio stations, including Al Quds, was hijacked - the signal of these local radio stations was hijacked - by the Israeli military, and they broadcast incitement messages against the resistance, warning messages and that's why these local stations work from unknown places because they know they could be a target.
CS:
Israeli military hijacked Al Quds network during this latest assault?
YA:
Yes, many times, the signal was hijacked and people could hear recorded messages, warning messages, incitement messages. Yes it did happen.
CS:
Is there anything else that you think that's important to comment on the situation for journalists right now in Gaza?
YA:
I think if the Israelis decided to shut the Internet, this means Israel could actually impose a media blackout.
CS:
What suggests they might do that?
YA:
The latest SMS messages was an attempt to keep them away from filming. The footage of civilians and children torn to pieces, of course this is causing an uproar worldwide when they see this horrific footage of kids celebrating Eid on the swings, so many really sad and horrible incidents. Each one of us has lost a member of his family. Our houses targeted and destroyed. Obviously this is going to make people more determined. We know that Israel has established a media center, recruited hundreds of Israelis to counter the Palestinian media coverage of the Israeli attacks.