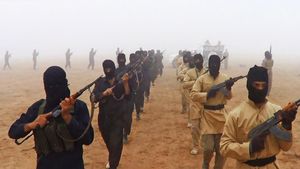 A political analyst says the ISIL terrorists can become a catalyst for a war engulfing the region and spilling over across the world, Press TV reports.
Speaking in an
interview
with Press TV, Bill Jones, from the Executive Intelligence Review, said the Takfiri ISIL militants pose no direct but certainly an indirect "big threat" to the United States.
"Given the situation in the Middle East if the ISIL would create a radical Islamic state in the region, then that becomes a catalyst for what can become a much more widespread war and chaos involving not only the regional powers but given the interest of other international powers in the region including Russia, China, the United States, we are looking at some pretty serious conflicts between these great powers," Jones added.
He emphasized that any success of the ISIL cult would have "a very important indirect effect" on the US and on the rest of the countries in the Eurasian region.
The analyst urged all regional countries to create "a fabric of stability" which has been consistently undermined by the US.
He pointed to the support of Saudi Arabia and Qatar for ISIL terrorists and said any kind of the US military bid to defeat, stop or hinder the Takfiri militants will be "a total folly" unless the Saudi role is exposed.
Iraq is currently witnessing a wave of violence, which escalated after militants from the ISIL terrorist group took control of large swathes of the country, including key cities last month.
The Iraqi forces are pressing ahead with their fight against militants from the terrorist group, who have threatened to take the battle to Baghdad.
Iraqi Prime Minister Nouri al-Maliki has said Saudi Arabia and Qatar are responsible for the security crisis and growing terrorism in his country.