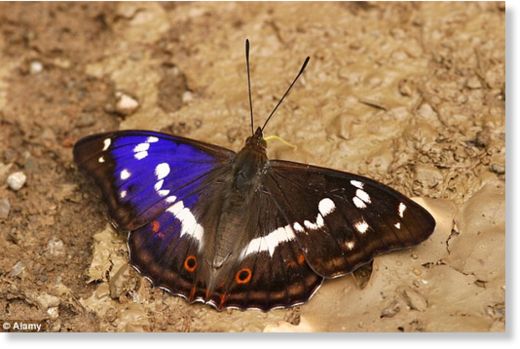 Sycamore seeds are well developed and hawthorn berries are already red, says National Trust
After an early spring and summer, the year is now racing towards autumn ahead of schedule, conservationists have said.
As the year reached the half-way mark, the National Trust said wildlife seemed to have come through the wettest and stormiest winter on record and nature had hurtled "helter-skelter" through the seasons since.
Now signs of autumn are already in the hedgerows and woods, National Trust naturalist Matthew Oates said.
"Looking at this year, where does it want to be? It raged its way through winter, then we went into an incredibly early spring, and then it rushed helter-skelter through spring without stopping for breath," he said.
A hundred years ago on midsummer, Edward Thomas had the inspiration for his famous poem, Adlestrop, hearing a blackbird singing while his train stopped at the Gloucestershire village. But Mr Oates said that this year, blackbirds had already stopped singing for the season by midsummer.
"We're ahead still, remarkably ahead, birds have largely stopped singing, a lot of butterflies are very early and are still coming out early," he said, pointing to early arrivals of high summer butterflies including chalk hill blues and purple emperors.
And he said: "
There are really strong signs of autumn already here, like the beech nuts, it's an amazing beech mast year and the nuts are incredibly well developed."
He also said sycamore seeds were well developed and hawthorn berries -
and even holly berries - were already red
. The early spring and summer seemed to have benefited more species than had been hit, he said.
"If we go back to that winter, it was the wettest, stormiest, wildest winter, and very stressful for every living thing, including us, but wildlife seems to have come through it incredibly well. There are always winners and losers. At the moment there seem to be far more winners than losers, though we must remember a lot of our wildlife is in a pretty beleagured state."
Despite the generally good situation, Mr Oates raised concerns about low numbers of butterflies such as cabbage whites and the scarcity of bees and many flying insects.
More positively, some species of insect may be able to fit in an extra brood because they are so far ahead for the year, he said.
And an early autumn would not spell problems for wildlife, he said, so long as creatures such as squirrels and dormice had had the chance to fatten up before winter set in.
Even if the weather now changed to conditions similar to the record wet summer of 2012, species had already done well in the early spring and summer, he added, with birds and amphibians such as natterjack toads faring better than after the freezing winter and spring at the beginning of 2013.
And if hot dry conditions set in for the summer, the water table was high after the wettest winter on record, and the chances of damage to wildlife due to drought were "very low", he said.
Source: Press Association