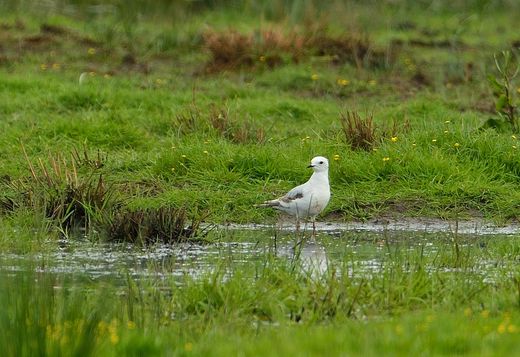 I was late rising this morning and when the phone rang and rang and then rang again I wa quite certain that there must be a special bird about. I was right, Dave Stone excitedly told me that there was a Ross's Gull at Bowling Green Marsh. Ross's Gull is an extreme rarity here in Devon and this one is in fact the first record for the Exe Estuary and one of just a handful ever recorded in the county. I dont particularly like these "twitches" being a a bit of a contradiction to what I like about about wildlife watching but if you want to see really rare birds then needs must.
Ross's Gull is a small gull which is
an Arctic breeder
and named after a Naval Officer, James Ross. It is a true bird of the far north and breeds in the north of Siberia and the North American continent in Northern Canada.
When it has finished breeding it then flies even further north
. Quite how this one came to be here in the South West of the UK is one of those mysteries that can never be solved. This lonely individual is a young, non-breeding bird in it's second year. I was expecting to see a much more attractively marked bird and have to confess to some disappointment in this regard. The legs are fleshy red and the beak is delicate and solidly black. The tail is distinctive in flight being wedge shaped with a noticeable blackish band on the end. As a young bird it has black markings on the wings reminiscent of a LIttle Gull. Adult birds lack these markings but in the summer and in breeding plumage, have a noticeable black band around the neck and also have a pinkish suffusion on the breast. This bird was feeding on small flying insects around one of the pools on Bowling Green Marsh which is apparently typical behaviour.