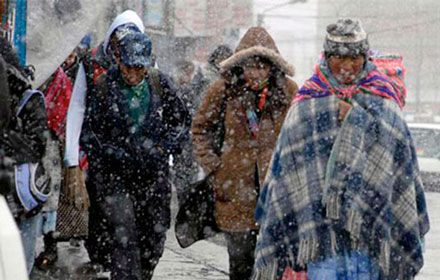 The Cattle Raisers Federation in the northeastern Bolivian province of Beni reported Thursday that at least 60,000 head of livestock have died due to the cold wave that has beset the Andean nation for a week.
Federation director Carmelo Arteaga said that the situation "is desperate" and added that the sector needs $1 billion to repurchase the cattle that have been lost and to create the conditions to face natural disasters, radio Erbol reported.
Beni, Bolivia's main beef-producing province, was one of those most affected by serious flooding registered in the country between October and March, when thousands of head of cattle also perished.
Arteaga said that the ranchers were still recovering from the damage caused by the rains, when they were surprised by the low temperatures, which worsened their situation even more.
The cold wave,
which has brought low temperatures of minus 16 C (3 F)
in some parts of the country, last week resulted in five fatalities due to hypothermia in Bolivia, two of them in the eastern province of Santa Cruz and three in the Andean regions of La Paz and Potosi.
Source: EFE