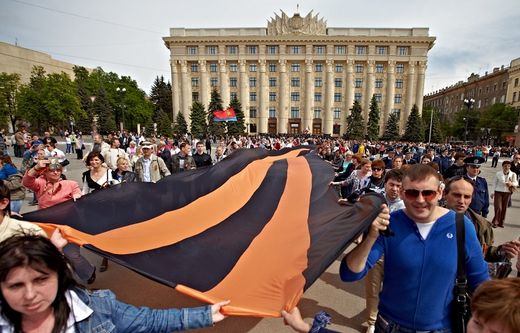 East Ukraine's Kharkov region will hold a regional independence referendum following south-eastern Ukrainian cities of Donetsk and Lugansk, member of the coordinating council of movement "Southeast" Yuri Apukhtin said at a rally near the monument to Soviet leader Lenin on the Square of Freedom in this Ukrainian city on Sunday.
"Kharkov region will hold a referendum on independence following Donetsk and Lugansk. Our task is not to participate in Ukrainian presidential elections in any case. We should meet on this square on May 25. We do not recognise these elections," he stated.
Meanwhile, Apukhtin criticised the second all-Ukraine national unity roundtable meeting in the city of Kharkov on Saturday. In his words, he refused to participate in this meeting, though he was invited to attend it.
Representatives from movements "Southeast", "Borba" (Struggle) and the Ukrainian Communist Party are participating in the rally on the Square of Freedom. Many demonstrators came with Russian national flags.