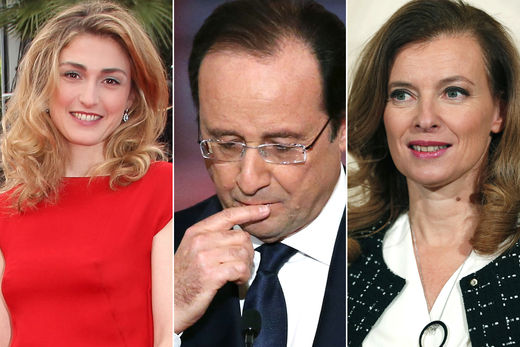 French President Francois Hollande and his first lady, Valerie Trierweiler, are together studying a "clarification" of their relationship, Trierweiler's lawyer told the newspaper
Le Figaro
.
Trierweiler remains holed up in a presidential residence in Versailles outside Paris after Saturday leaving hospital where she was treated for a bout of "tiredness" brought on by press revelations of Hollande's affair with a French actress, Julie Gayet, 41.
Speculation is rife in Paris and elsewhere that Hollande, 59, might be poised to dump Trierweiler, 48, his longterm partner who was with him when he became president in 2012.
The president promised in a mid-January news conference that he would publicly define what relationship, if any, he and Trierweiler had before going on a February 11 state visit to Washington.
Trierweiler's lawyer, Frederique Giffard, said "the president of the republic and my client are thinking it over," according to a report on Le Figaro's news website.
Trierweiler, a former political reporter who maintains a contract with the magazine
Paris Match
, wants to come out of the scandal "in the most dignified way possible," she added.
"It's very difficult for Valerie Trierweiler to remain calm under this media and political pressure" and she is aware that "a clarification is necessary" regarding her relationship with Hollande, the lawyer said.
Giffard called the global interest swirling around Hollande and the women "a completely crazy media competition" that raised possible legal challenges over violation of her client's right to privacy.
The lawyer said Trierweiler, who has three children from a marriage prior to her relationship with Hollande, was concerned about her financial future, having given up a television gig when she moved into the presidential palace.
She added that Trierweiler was not seeking to fuel the scandal.
Attempts by
AFP
to contact Giffard were not successful late Thursday.
Source: Agence France-Presse