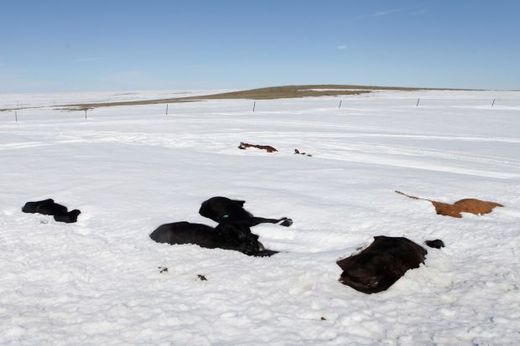 Jan. 14 (Bloomberg) -- As temperatures dipped to a record minus 25 degrees Fahrenheit (minus 32 Celsius), the crew at Dean Wang's ranch in Baker, Montana, increased alfalfa-hay rations to give his cattle more energy during the arctic blast.
"Cattle are requiring more feed in order to just maintain their body temperature, instead of putting that extra energy into gaining weight," said Wang, 46, who has about 850 cows that will calve this spring and 550 young cattle. "This year, everyone started feeding a little earlier than what they would have liked, because of the heavy snow and the cold."
The deep freeze that swept across the U.S. last week, disrupting travel and boosting fuel use, is compounding stress on a shrinking domestic beef industry already struggling with high costs and weather shocks. While crops from oranges to winter wheat avoided major damage, the cold slowed the growth of livestock and extended a rally in Chicago cattle futures to a record, signaling higher beef costs for restaurants including McDonald's Corp. and Texas Roadhouse Inc.
The U.S. cattle herd contracted for six straight years to the smallest since 1952
, government data show.
A record drought in 2011 destroyed pastures in Texas, the top producing state, followed the next year by a surge in feed-grain prices during the worst Midwest dry spell since the 1930s. Fewer cattle will mean production in the $85 billion beef industry drops to a 20- year low in 2014
, the U.S. Department of Agriculture said.
Herd Size
"You sell your cattle because you can't afford to feed" them, said Paul Looney, a Mineral, Texas-based rancher who serves as the first vice-president for the state's Independent Cattlemen's Association. "We were hit across the board in Texas. Everyone had to reduce herd size, so that impacts the whole beef business, from the ranch to the plate."
Cattle futures rallied 13 percent since the end of June and reached $1.381 a pound today, the highest since trading began on the Chicago Mercantile Exchange in 1964. The Standard & Poor's GSCI gauge of 24 raw materials slipped 0.2 percent in the period, and the MSCI All-Country World Index of equities rose 14 percent. The Bloomberg Treasury Bond Index was little changed.
Prices that settled at $1.37075 yesterday may reach $1.405 in 2014, according to the median of six analyst estimates compiled by Bloomberg. Futures climbed for five straight years through 2013, the longest streak on record.
Commercial beef output in the U.S., the biggest producer, may drop 5.4 percent this year to 24.32 billion pounds (11.03 million metric tons), the lowest since 1994, the USDA said Jan. 10. The herd reached a 61-year low of 89.3 million head as of Jan. 1, 2013. The agency will update its estimate on Jan. 31.
South Pole
Frigid air covered much of the U.S. last week, with the morning temperature in Chicago on Jan. 7 lower than at the South Pole, while the Minnesota towns of Embarrass and Brimson were the coldest in the contiguous U.S. with readings of minus 35, the Weather Prediction Center in College Park, Maryland, reported.
Animals have a harder time generating enough heat to stay warm during cold weather, said Dustin Oedekoven, South Dakota's state veterinarian. If cattle use energy for heat, that takes away from the calories used to put on weight.
Limited Impact
The impact of last week's freeze may be limited because extra feed use is standard for livestock operations during winter months, and "overall, it's not a detriment," said Harry Knobbe, who farms and feeds cattle in West Point, Nebraska. Cattlemen across the Midwest prepare by bringing animals to winter pastures where there are more natural or man-made shelters from the wind, with some closer to barns, which makes it easier to feed the extra rations.
As temperatures warm back up, animals will get their appetite back and gain weight faster, said Arlan Suderman, a senior market analyst in Wichita, Kansas, for Water Street Solutions Inc.
While herds are shrinking, so is U.S. beef demand. Per- capita consumption of the meat may shrink to 53.6 pounds this year, the lowest since at least 1970, the government has projected. Higher grocery bills may be prompting consumers to choose cheaper alternatives, said Dick Quiter, an account executive at McFarland Commodities LLC in Chicago.
Retail ground-beef averaged $3.477 a pound in November, after climbing in September to $3.502, the highest since at least 1984, the latest data from the Bureau of Labor Statistics show. Whole chickens fetched $1.518 a pound in November, while pork chops sold for $3.681 a pound. Per-capita chicken demand may jump 2.8 percent to 83.7 pounds this year as pork consumption rises 0.2 percent to 47 pounds, the USDA predicts.
"It's still a bargain to buy pork and chicken compared to beef," Quiter said. "I just can't imagine that we can keep these kinds of prices for long at that kind of a disparity."
Fewer Cattle
The number of cattle in American feedlots was the second- lowest on record on Dec. 1, government data showed. While corn dropped 49 percent since reaching a record $8.49 a bushel in August 2012, prices are still 25 percent higher than the average of the past two decades. Use of the grain in livestock feed will jump 22 percent this year, the USDA forecasts.
Even as domestic beef demand drops, global consumption this year will be the highest since 2008 as higher incomes allow people in emerging economies to afford more protein, according to the USDA. U.S. exports totaled 2.36 billion pounds in the 11 months through Nov. 30, up 4.4 percent from the same period a year earlier, according to the latest government data. Japan, Canada and Mexico were the biggest buyers.
Hedge Funds
Hedge funds and other money managers still are betting on a rally, holding a net-long position of 105,024 futures and options contracts in cattle as of Jan. 7, Commodity Futures Trading Commission data show. That's the most bullish since October 2011 and up 64 percent from a year earlier.
Shrinking cattle supplies and higher beef prices are increasing bills for consumers, grocers and restaurants. While total global food costs fell 3.4 percent last year, meat prices climbed 0.5 percent, according to data from the United Nations. Consumers may pay as much as 3.5 percent more for beef this year, the USDA has projected.
Costs for beef at Cracker Barrel Old Country Store Inc., the Lebanon, Tennessee-based operator of 625 restaurants across 42 states, were "up sharply" in the three months ended Nov. 1 from a year earlier, Lawrence E. Hyatt, the chief financial officer, said on an earnings conference call with analysts on Nov. 26.
'Biggest Impact'
For McDonald's, the world's largest restaurant chain, beef is one of the "biggest impacts on commodity cost" in the U.S., Peter J. Bensen, the chief financial officer, said on an earnings call with analysts on Oct. 21. Texas Roadhouse raised prices in the last two years as the Louisville, Kentucky-based steakhouse chain tries "to fight off what's been pretty high beef inflation," Scott Colosi, the company's president, said yesterday during a presentation to investors in Orlando.
Producers have been slow to boost output even after the run-up in prices. It can take three years to breed a cow and raise its calf to slaughter weight.
Texas rancher Looney, who is 64 and has been in the cattle business his whole life, said his herd is still about 90 percent below its size from 2005 because of the prolonged dry weather. It will take years for the pastures to come back, even if there is normal rainfall, he said. About 44 percent of Texas was in still in drought in the week ended Jan. 7, according to the U.S. Drought Monitor.
An unseasonably early storm in the Black Hills region of South Dakota produced as much as 4 feet (1.2 meters) of snow in early October. At least 21,671 South Dakota cattle died because of the blizzard, according to voluntary reports by producers to the state's animal industry board.
Temperature Swings
"It has been really, bone-chillingly cold," said Jodie Anderson, the Pierre, South Dakota-based executive director of the state's Cattlemen's Association. "This is a time of year when folks are generally prepared for the cold. From a producer perspective, it just makes everything much more difficult. You have to make sure equipment will start and remain running, and it will take more time. You have to provide additional calories to those animals so they can stay warmer and have adequate nutrition."
Frigid temperatures may continue to present challenges to ranchers because the recent cold was part of a pattern of extreme weather that occurs every decade or so and has been plaguing the U.S. with temperature swings from mild to freezing for more than a month, said Tom Kines, a meteorologist with AccuWeather Inc. in State College, Pennsylvania. The affected region extends across the upper Midwest into the South and eastward to the Atlantic, he said.
"When you get extreme weather conditions like we saw last week, you're going to see some cattle not gain weight like they should," said Lane Broadbent, president of KIS Futures Inc. in Oklahoma City, who has been a commodity broker for more than two decades. "Our supplies are going to be tight, and we're seeing demand overseas improving too. It looks like it's going to be a pretty good 2014 for the cattlemen."
--With assistance from Brian K. Sullivan in Boston and Leslie Patton in Chicago. Editors: Steve Stroth, Joe Richter