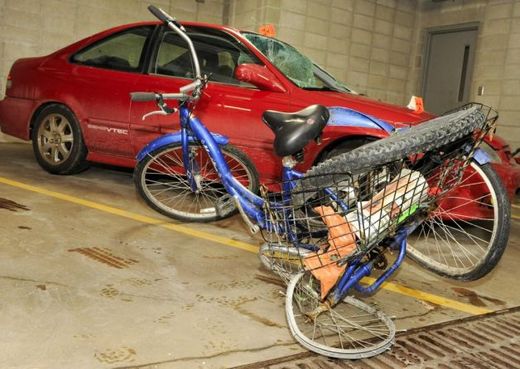 "God is good. He had his hands on me that day," said Steven Gove of Manitowoc, the newspaper carrier who escaped serious injury after he was stuck in the windshield of a moving vehicle that hit him Saturday night.
"I'm just happy to be alive," said Gove on Monday as he recalled the bizarre hit-and-run crash at the intersection of Marshall and South 16th streets. Police arrested a 20-year-old Manitowoc man who was allegedly intoxicated when he hit Gove as he was riding his three-wheeled bike.
"I was wearing my blue overcoat with my neon reflective vest. I had my front and rear flashers on. I have no idea why he didn't see me," said Gove, who had visible scratches to his face from going through the windshield.
Gove said he was returning home from delivering 275 Lakeshore Chronicles, when the next thing he knew he was upside down in the car. "I was conscious for the whole time," Gove said.
"Everything was in the car except for my knees and feet. I turned to him and said,
'Hello, I'm the guy you hit on the bicycle,'" he said. "I had no idea at all why he wasn't acknowledging me."
The driver continued east on Marshall Street, ran a stop sign at South 14th Street, crashed into a vehicle and kept going, according to the Manitowoc Police Department.
Gove, 56, said he was planning to see his lawyer about the accident.
"I'm starting to get nauseous and a little dizzy when I get up. I've had a headache ever since I went through the windshield. The nausea and dizziness just started today," he said.
He harbors no ill will against the driver, however, Gove said.
"I have no malice toward him," he said. "I hope he can get his life straightened out. He's a young man. He deserves a second chance."
The driver finally noticed Gove after he stopped at his residence in the 1100 block of South 13th Street.
"He looked at me and said 'Who are you? What are you doing in the car?'" Gove said. "He started freaking out: 'I'm going to jail, I'm going to jail.'"
After the driver locked the car doors and went home, Gove was able to pull himself into the car.
"I righted myself and got out," Gove said. "I unlocked the passenger's side door and started walking down the street."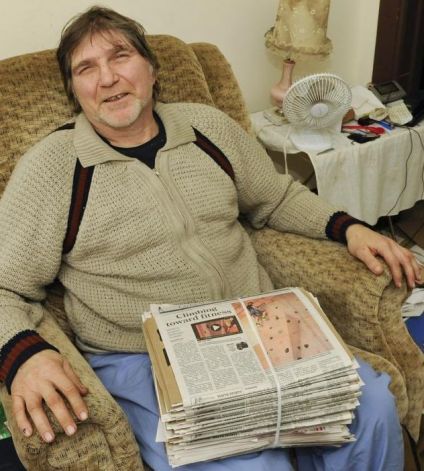 Meanwhile a witness had alerted police. Police caught up with Gove in the 1300 block of Marshall Street. He was transported by Manitowoc Rescue Squad to Aurora Medical Center in Two Rivers.
He was treated for cuts to his head and leg; glass was also removed from his eyes, Gove said.
The suspect was located inside the home and transported by Manitowoc Rescue Squad to Holy Family Memorial Medical Center in Manitowoc, where he was treated for a significant cut to one of his hands. The driver and Gove were released from the hospitals.
Police said the driver was arrested on suspicion of operating while intoxicated causing injury, hit and run causing injury, and failure to render aid. He spent the night in jail on an OWI hold.
As for Gove, he plans to return to delivering the Lakeshore Chronicle this week.
"I'll be right back at it as soon as I feel better," he said. "I enjoy delivering papers. It's a service. I get out and get fresh air. I get my exercise for the day. I get paid what I need. I'm happy."
Green Bay victim not so lucky
A 50-year-old Green Bay man was killed in a similar accident in July 2007, according to Press Gazette Media. Tyrone Ware was struck by a drunken driver while walking on Green Bay's east side and was left lodged in the car's windshield overnight. He died instantly of spinal injuries, an autopsy showed.
The driver in that incident, Steven Warrichaiet, was sentenced to 15 years in prison. He drove home after the crash, parked in his garage and fell asleep on the couch. He found Ware's body six hours later and called police.
A woman who was struck by Warrichaiet's car at the same time was left permanently disabled.