New York homeless at Penn Station say officers threaten them with expulsion into deadly weather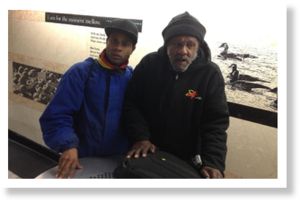 As Rachel lay napping in New York City's Penn Station on Tuesday, an Amtrak police officer approached and banged on the wall next to her with his baton, startling her from sleep.
The officer told Rachel to get up from the floor or risk being removed from the station. She stood up and said, "Arrest me. I don't care."
Moving along the wall, the officer woke a homeless man by giving him a prodding kick to his feet, then roused several others.
Rachel, 43, has been homeless for seven years, and she said she has no choice but to stay inside Penn Station, one of America's biggest rail hubs. The
frigid cold outside is life-threatening
, with temperatures dropping into single digits and wind chills as low as 20 below zero.
She and other homeless people who lie low at Penn Station on harsh winter days describe
a coordinated campaign of intimidation and physical harassment by Amtrak police
. When the homeless head to the station for warmth, Amtrak police often expel them outside if they lie down anywhere.
"We can't sit down. We can't lay down" without worrying about the crack or shove of an Amtrak officer's baton, Rachel said.
"
Some cops will hit you
," she added, describing a time when she saw a friend of hers forced up against a wall by police, or another who had a baton pushed against his chest.
The officers who roused the sleeping homeless referred Al Jazeera to a supervisor, who provided a number for Cliff Cole, an Amtrak spokesman.
"That's not Amtrak policy to physically abuse any passenger or patron," Cole said. Cole said Amtrak would look into the allegations.
Rachel, who is from Brooklyn, said
many homeless people, including herself, would rather endure jail or possible abuse by police than go to a homeless shelter, where fights, theft and even sexual assault can occur
.
Asa Lowe, 41, who said he lived in Coney Island until Superstorm Sandy forced him out in 2012, described treatment by Amtrak officers as unfair and the feel of the cold as "brutal."
"The police are really threatening. Look at the brutal temperatures out there. Anybody who sleeps out there is going to catch pneumonia," he said. "It's cruel, and it's going to continue all day."
In New York, shelters are one of the limited options homeless people have, and New York's new Mayor Bill de Blasio, sworn in on New Year's Day, has mandated they
stay open 24 hours a day
, a change from his predecessor's policy.
But homeless people often resort to other strategies to keep warm, including staying in Penn Station, and also hiding underground in the subway.
"The A train is the best train. Any train that loops around is good to stay on," said Fred Wurtz, 52, from Manhattan.
The A train spans 31 miles of track from the northern part of Manhattan island to the southeast corner of the borough of Queens.
"It's cold.
It's about as cold as I've ever seen
. I stay here, just walk around and stay inside," said Wurtz.
He said he has been homeless for two or three years. In his last job, he worked in a textbook warehouse. He speaks slowly and calmly about his hardships.
"I hope it's a short winter," said Wurtz.
But for Allen Duncan, 37 - who sat next to an air vent near a Wells Fargo ATM in Penn Station to keep warm - staying on the subway has risks.
"If you fall asleep, then you don't know where you're going to wake up. You could end up in Far Rockaway," he said, referring to the far end of the A train in Queens.
Maureen Ollievierre, who gave her age as "grumpy and over the hill," pushed a laundry cart full of blankets through the station.
"I hate this weather. I love 85, 90 degrees. I dress warm, drink hot drinks," she said. Ollievierre also said police at Penn Station give her a hard time "no matter what."
Ray Cosby, 69, who said he has been living on the streets for 20 years, said he often sleeps in an abandoned truck in Manhattan to stay warm.
There are services available for homeless people in Penn Station through the
Bowery Residents' Committee
(BRC), a nonprofit, which has an outpost inside the station. A BRC press agent referred Al Jazeera to the Metropolitan Transit Authority's homeless services office, but that office did not reply to Al Jazeera by press time.
At Port Authority, a bus depot eight blocks north, homeless people described more understanding police treatment.
Robert Alston, 34, who's been homeless since August, said police at the bus terminal don't threaten homeless people with expulsion "unless you're violent."
"You've got to keep a low profile," he said.
But keeping a low profile doesn't seem to work at Penn Station.
"The Amtrak cops, they don't care for the homeless," said Wilson Maldonado, 46, who was sitting in Port Authority with his wife, Maria, 44, on Tuesday. "They treat us like we deserve it. They put us right into the street."
"
If you fall asleep, then they arrest you
," he added.