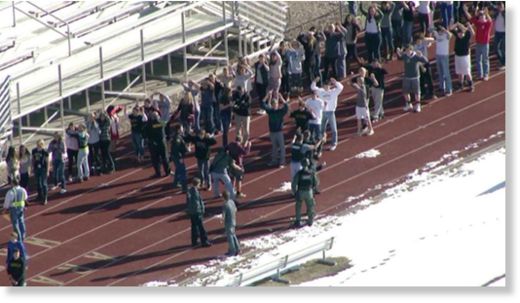 A student at Arapahoe High School in Centennial, Colo., opened fire at the school, then killed himself, officials said Friday.
At a televised news conference, County Sheriff Grayson Robinson said the student entered the building armed with a shotgun looking for a specific teacher. At least one student was injured in the shooting, he said.
A second student sustained minor injuries, but authorities were unsure if it was related to the shooting.
The latest attack comes as the nation prepared to commemorate the first anniversary of the massacre at
Sandy Hook Elementary School
in Newtown, Conn., where 20 children were killed by lone gunman
Adam Lanza
. Six adult educators also died in that shooting before Lanza committed suicide.
Televised images of the incident in Colorado showed
students, arms raised, leaving the building
, which is attended by about 2,000 students.
Centennial is roughly 15 miles south of downtown Denver and less than 10 miles east of
Columbine High School
in Littleton, the scene of a shooting rampage in 1999, when two teenage shooters killed 12 classmates and a teacher.
In the current incident, at least one student was reported by hospital officials to be in critical condition.