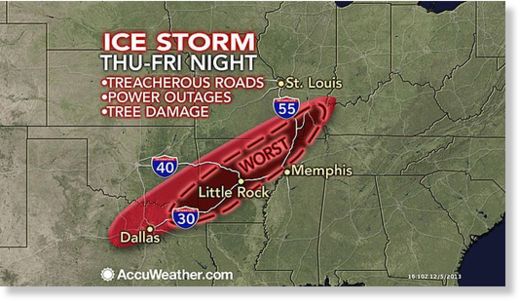 An ice storm will affect millions of people into Friday and threaten to cut power for hundreds of thousands from northern Texas to western Kentucky. Travel by vehicle or foot will be dangerous during and after the storm, due to icy roads and falling trees and power lines. Snow and ice is already making travel difficult across Oklahoma, Texas and northern Arkansas. Conditions will worsen tonight.
Metro areas from Dallas to Little Rock, Ark.; Cape Girardeau, Mo.; Memphis, Tenn.; Evansville, Ind.; and Louisville, Ky.; will be affected by a period of freezing rain that will build up on exposed surfaces, including trees and power lines.
In some locations, the storm has the potential to allow one half an inch or more of ice to accumulate on the ground and accrue on elevated surfaces.
The storm is similar in size and may be similar in magnitude to a storm just several years ago.
According to
Jesse Ferrell
, weather expert and storm chaser for AccuWeather.com, "This will be the worst ice storm for the United States since January 2009 and will affect many of the same areas as that storm."
The New York Times
reported that 1.4 million homes and businesses lost power in that late January storm.
Lingering, and in some cases intensifying, cold air in the wake of the storm will prevent the ice from melting quickly and can make immediate cleanup difficult, if not impossible. Many road crews have limited ice-melting compounds at their disposal.
Adding to potential damage or complicating cleanup further, a second round of ice will follow in some areas over the weekend, as a second large storm rolls in from the Southwestern states.
"Every few years there is a blockbuster ice storm somewhere in the U.S. and these storms are no stranger to the South Central region," Ferrell said.
A storm cut the power to over 500,000 people from New Mexico to Arkansas in late December of 2000. Another ice storm hit hard in February of 1994 from Arkansas to Tennessee and Alabama.
"One of the worst ice storms in recent decades hit in 1998 in the Northeast U.S. and neighboring Canada where close to 3 million utility customers lost power," Ferrell added.
For some areas, enough cold air may come in at critical layers of the atmosphere to bring more sleet and snow, rather than freezing rain. This is most likely on the northwest fringe of the storm over the Central states and farther to the northeast over part of the Ohio Valley and central Appalachians.
For current information on the ice storm, visit our
live blog
.
Video link