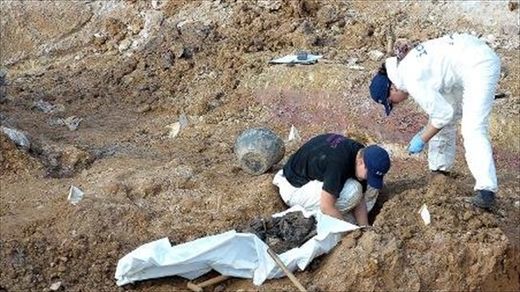 Forensic experts have exhumed 430 bodies so far from a mass grave left over from the 1992-1995 Bosnian war, possibly the largest gravesite found in Bosnia-Herzogivina, officials said Thursday.
"Remains of 430 victims have been exhumed so far and among them 275 complete bodies," Lejla Cengic of the Bosnian Institute for Missing People told AFP.
The bodies are believed to be those of Muslims and Croats tortured and killed by Bosnian Serb forces in northwestern Bosnia at the beginning of the war.
The grave was discovered in a disused mine in the village of Tomasica in the region of Prijedor. Exhumation started in September with around a dozen bodies being recovered each day.
Bosnian Serbs took control of the Prijedor region in April 1992, forcing non-Serbs to leave their homes. Thousands of people were thrown into detention camps, where they were held in squalid living conditions, many tortured, and many executed.
The Bosnian Serb mayor of Prijedor, Marko Pavic, on Wednesday visited the gravesite and "expressed his deep remorse for all that had happened and expressed his condolences to families of victims exhumed from the grave," his office said in a statement.
Associations of victims' families welcomed the mayor's visit but expressed doubts as to its sincerity.
"I am not ready to believe in his words of remorse. That is somebody who has insulted victims in the past," Edin Ramulic of one of Prijedor victims' associations told AFP.
Pavic had opposed construction of a memorial at the site of a former Bosnian Serb detention camp at Omarska.
The Institute is still searching for 1,200 people from the 3,000 who went missing in the area during the three-year war, which left 100,000 dead.