Those who cut themselves - many as young as 10 - are often dismissed as attention-seekers. But their distress is real, and their numbers are increasing, reports Kate Hilpern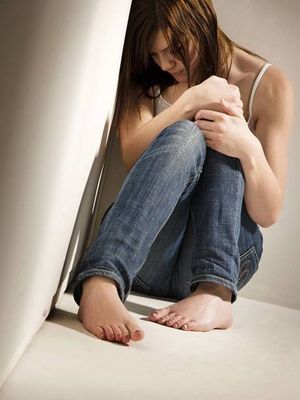 Chloe was just 12 when she started self-harming. "I was very quiet and an easy target for bullies. My brother was unwell, so I didn't want to bother my parents, and I had very few friends. One day in class, I dug my nails into my arm to stop me crying, and I was surprised by how much the physical pain distracted me from the emotional pain. Before long, I was regularly scratching myself, deeper each time."
The following year, on another particularly bad day, Chloe came home to find a knife on the kitchen side. "It felt almost instinctive to cut myself and afterwards, I felt so much better. By the time I was 15, I was using scissors or blades several times a day and never left home without something sharp."
Chloe hid her scars, but one day a friend saw her diary. This led to Chloe's mum, Jo, finding out. "It was a big shock," says Jo. "Chloe, who is now 17, has always been a very sensible, studious young lady. I didn't even know she was unhappy. Making matters worse was the fact that I got such bad advice. I was told not to discuss anything with Chloe, just to march her into treatment. It didn't work."
Last week, official statistics revealed an alarming rise in children who self-harm.
These figures show that in the past year, NHS hospitals treated more than 18,000 girls and 4,600 boys between 10 and 19 after they had deliberately harmed themselves - a rise of 11 per cent. During the same period, cases involving children between 10 and 14 rose from 4,008 to 5,192 - a rise of 30 per cent
.
According to Sarah Brennan, chief executive of YoungMinds, "An equally striking finding, which reflects Jo's experience, was the lack of confidence among parents and professionals about how to deal with it."
So what's going on? Why are so many young people - children, for goodness sake - self-harming? And where did the phenomenon, one that many people hadn't even heard of until recently, come from anyway?
Rachel Welch, project manager at selfharm.co.uk, isn't convinced self-harming is on the rise. It's just we are more aware of it, says the 35-year-old. Indeed, even the Bible includes stories about self-harming and the World Health Organisation has long recognised it as a problem, not just in the West but in developing countries.
"If you think back," Welch says, "you may well remember someone in your youth who bit their nails furiously to the point of bleeding or who pulled out their hair. I knew one woman who always wore shoes a size too small because she said each step reminded her of just how awful she thought she was. When I self-harmed as a teenager, I used bruising. Like these other people, I didn't think of it as self-harm, though, because the label wasn't around and there was no real understanding of it."
In turn, this meant other people were less likely to look out for, or notice, it. "And it certainly didn't occur to me to contact anyone to help make sense of what I was doing. We had no phone except one static landline where everyone could hear you and I wouldn't have known who to call anyway," she says. "Nowadays, people are much more likely to know about self-harm and they can contact organisations like ours, ChildLine and others privately by phone or online."
But Sue Minto, head of ChildLine, believes the increase in cases has been dramatic. "I
n 2011/12, self-harm appeared for the first time in the top five main concerns for 14 year olds. This dropped further to 13 year olds in 2012/13, indicating that more young people are self-harming at a younger age,
" she says.
While some headlines have blamed a society increasingly obsessed with body image (which may help account for why girls are more prone to self-harming), Minto believes a more serious problem is the 24/7 online culture. "In my day, if someone was bullied, they could find escape at home, but that isn't available now. Before you know it, something you said in confidence to one friend, or something unkind that someone else has said about you, is up there in neon lights for anyone to read for any amount of time."
Then there's the fact that families are increasingly fragmented and the inequality gap is widening. "Research shows that under-12s, in particular, are very watchful when their parents are stressed and often internalise it," says Fiona Pienaar, head of service management at children's mental health charity Place2Be.
No wonder so many more young people turn to self-harm to cope, she says. "People report that the pain - and blood, if cutting is involved - can make them feel they are alive, when otherwise they feel numb or insignificant. People also talk about the overwhelming tension that can build up in their body, which hurting yourself can release. Then there's the way that physical pain can push away emotional pain. Many people, for example, report banging their heads against a wall when dreadful thoughts seem to take over. And others talk about wanting to punish themselves."
Whilst it's clearly positive that self-harm is now acknowledged as a problem, the increased publicity does have a darker side, she says. "It means it is more likely to be on the menu of options for young people. I do wonder if some who hear about it and are struggling, may then try it."
With celebrities such as Demi Lovato, the US singer, increasingly making public that they self-harmed, it's a concept that is much more likely to be on a young person's radar, she explains.
Certainly much is made of copycat self-harming, a concept that took a particularly sinister turn in January when a mock campaign started by online pranksters urged Justin Bieber fans to self-harm themselves and film it in protest at controversial images of the pop star.
There are even pro-self-harm websites, which Welch says are even darker than pro-anorexia ones. "These are sites which urge competition about how far you can go or which get people posting their cuts as badges of honour."
These are not reasons to stop discussions around self-harm, however, she says. "I think that if someone is going to watch a film with self-harm or read about it in a magazine and try it, then they probably would have a predisposition towards it anyway. In fact, I think the more we talk about it, the more likely prevention, support and treatment is likely to improve."
As it is, she says, there are countless problems. First off, prevention, which has to involve young people feeling they have positive engagement with their families, schools and peers, clearly isn't happening.
Second, while an adult facing mental health problems is likely to refer themselves to a doctor, youngsters almost never do until their symptoms are acute. It therefore falls to a parent or teacher, many of whom don't notice the problem.
"A further issue is that GPs often measure the emotional distress by the severity of the scars. But a 15-year-old cutting herself down to the bone isn't necessarily any more distressed than a 15-year-old scratching her wrist."
Even youngsters who do get referred often have an 18-week wait. "That's a long time for the problem to fester and they may no longer be in the right head space to talk about it."
Then there's the fact that youngsters need choices in treatment. "I completely refused all counselling and cognitive behavioural therapy," says Chloe. "I was very angry because it wasn't my choice. Eventually, what sorted me out was the friends I made at college and a local therapeutic group. Rather than saying, 'This is terrible, you need to stop right now', which is what everyone else said, they said, 'This is a coping mechanism. It's not great, but we need to work out what's caused it and find other ways for you to cope'. In my case, writing things down, talking to others and squeezing ice cubes can help. I self-harm a lot less now and I do feel I'm starting to move on."
Indeed, if there is one piece of good news around self-harm, it's that most adolescents who self-harm will stop in early adulthood, and often abruptly. "But this shouldn't be a reason not to take it seriously. It's a grave problem, with potentially fatal consequences, and some people continue or relapse," insists Welch.