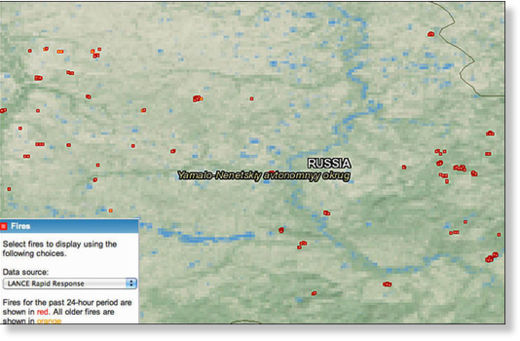 This unique summer for Northern Siberians brings Mediterranean temperatures but also 'out of control' blazes. Norilsk - one of Russia's coldest cities - basked in temperatures of 33C, as locals stripped off to catch a genuine Arctic tan, as we
reported earlier
.
As NASA noted, the cause was a 'blocking high' - a persistent high pressure weather pattern over the Russian Arctic.
For a few glorious summer days, the temperatures doubled from an average of 16C, but this also dried the land and led to wildfires, for example in the mainly Arctic autonomous district of Yamal-Nenets.
'The fires are burning in an unusual area. Most summer wildfires in Siberia occur south of the 57 degrees North latitude line, along the southern edge of the taiga. The July 2013 fires are significantly north of that, raging in woodlands near the 65 degrees North line,' said one report.
'High temperatures play an important role in promoting wildfires.
'Warm fuels burn more readily than cooler fuels because less energy is required to raise their temperature to the point of ignition. With temperatures soaring in northern Russia, it was easier for previously active fires to continue burning and for lightning to spark new ones.'
At one point 56 fires were registered in Yamal-Nenets, along with nine in the permafrost region of Yakutia, also known as the Sakha Republic. As many as 133 paratroopers from the aviation forest security service were working in Yamal and 50 additional paratroopers were dispatched in Yakutia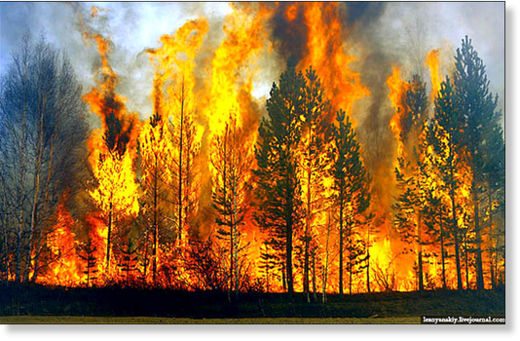 Maps showing fires ablaze in Arctic regions highlight a phenomenon that led to official blandishments. The Federal Forestry Agency (Rosleskhoz) accused the Yamal authorities of underreporting the scale of forest fires by 91,000 hectares.
'The first fires in Yamal were fixed in May. Those were small man-caused fires. Now the fire situation has gone out of control of the regional authorities,' said Andrei Zhilin, deputy head of Rosleskhoz, on 1 August.
'The authorities of Yamal have been repeatedly warned about such development of the situation,' he stated.
At the time there were 44 fires in the region, engulfing a territory of about 5,700 hectares, he said, stressing that according to Rosleskhoz there also about 60 fires affecting an area of about 77,000 hectares which were unconfirmed by the region.
He warned fires were spreading uncontrollably. Space monitoring data suggested that 130,000 hectares of woodland were destroyed by wildfires in 2013 in this region, while local officials put it at 39,000 hectares.