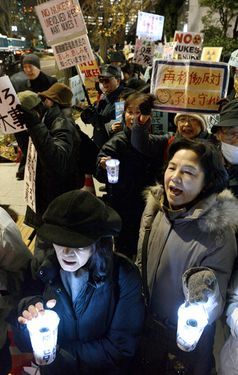 In their first mass protest this year, anti-nuclear protesters rallied outside the prime minister's office Jan. 11 and denounced the Shinzo Abe administration for failing to commit to reducing Japan's reliance on nuclear energy.
Organizers of the Friday-evening rallies, which began in March 2012 and were held throughout the year, say the protests will continue.
"Abe is putting economic measures first, but those who benefit from spending on public works will be general contractors," said 61-year-old Osamu Ishigaki from Yokohama, who joined the rally straight from work. "Investing in renewable energy would offer better prospects for the overall economy."
The Abe administration has pledged higher spending on projects such as surveys of tunnels, roads and railways and making repairs where needed.
It is also seeking to uphold Japan's reliance on nuclear power, scrapping the previous government's pledge to phase it out by the 2030s.
Like previous rallies, the latest one kicked off at 6 p.m. in the Nagatacho district, the Tokyo neighborhood akin to Washington's Capitol Hill or London's Westminster. It lasted two hours.
Fumi Maeda, a 23-year-old nursery school teacher from Toyohashi, Aichi Prefecture, said she was participating for the first time.
"The LDP wants to maintain the nuclear industry's status quo," she said. "It won the Lower House election, but by taking part in this rally I am hoping to get my friends and relatives interested in the matter."
The rally is organized by a group called the Metropolitan Coalition Against Nukes.