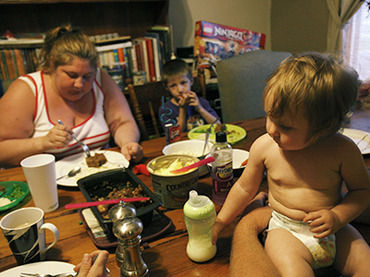 American health is in decline as new data finds that one in four US kids are on food stamps as of fiscal year 2011 and the younger generation is more prone to death and poorer health levels compared to their counterparts in other developed nations.
Almost 20 million children out of 73.9 million under the age of 18 were in the Supplemental Nutrition Assistance Program (SNAP), or food stamps, in 2011, according to data from the United States Department of Agriculture and US Census Bureau.
Moreover, children accounted for 45 per cent of aid receivers.
The number of people using the food stamp program has been on a rise, since 2009 about 15.5 million more individuals have been added to SNAP.
Latest data released for the month of October 2012 shows the drastic increase with one in 6.5 Americans using SNAP, while in the 1970s only one in 50 were part of the program.
Alabama Republican Sen. Jeff Sessions argues that US is not working towards any real solutions for the problem.
"It has become sadly clear that Agriculture Secretary Vilsack wishes to make welfare part of the normal American experience, with no regard for social or economic consequences," Sessions told
The Daily Caller.