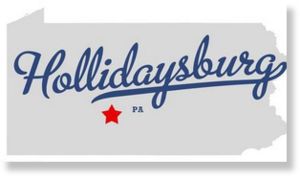 Hollidaysburg, Pennsylvania - A prosecutor says four people are dead, including the suspected gunman, in a shooting along a rural road in central Pennsylvania.
Blair County District Attorney Rich Consiglio says three people were shot Friday morning in Frankstown Township, about 110 kilometres west of Harrisburg.
Mr. Consiglio says two men and a woman were shot and killed and the suspected gunman also died.
State police say one trooper was struck by gunfire but escaped serious injury because the shot struck his bulletproof vest.
Mr. Consiglio says a second trooper was hit by shattered glass and a third was in a crash involving the gunman.
He says the public isn't at risk. Township supervisor Mark Schroyer says nearby schools weren't placed on lockdown.
The identities of the victims and gunman weren't immediately released.
The shootings, exactly a week after a massacre of 20 children and six adults at a school in Connecticut, "happened over a large area" near Geeseyetown, in a remote part of the eastern U.S. state, Diane Meling, a spokeswoman for the Blair County Emergency Management Agency, told AFP.
Source: The Associated Press ; With a report from Agence France-Presse