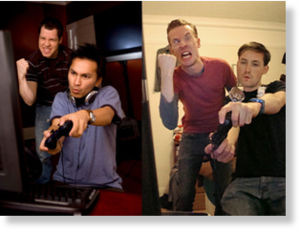 The multi-billion-dollar videogame industry came under scrutiny on Wednesday after Hollywood canceled, postponed or played down a slew of movies and TV shows with violent content in the wake of last week's shooting at a Connecticut elementary school.
In Washington, Senator John Rockefeller called for a national study of the impact of violent videogames on children and a review of the rating system.
Although investigators in Newtown, Connecticut, have given no motive for Friday's shooting rampage, some U.S. media have reported that the 20-year-old gunman played popular videogame
Call of Duty
- in which players conduct simulated warfare missions - in the basement of his home.
The gunman, Adam Lanza, killed himself at the scene after gunning down 20 young children, six school employees and his mother.
Rockefeller said he had long been concerned about the impact of violent games and videos on children.
"Major corporations, including the video game industry, make billions on marketing and selling violent content to children. They have a responsibility to protect our children," Rockefeller said in a statement.
The Entertainment Software Association, which represents the $78 billion U.S. videogame industry, on Wednesday offered its "heartfelt prayers and condolences" to the Newtown families.
But it said in a statement that "the search for meaningful solutions must consider the broad range of actual factors that may have contributed to this tragedy.
"Any such study needs to include the years of extensive research that has shown no connection between entertainment and real-life violence," the association said.
New
Call of Duty
,
Halo
games Rake in Billions
Activision Blizzard's latest title in its
Call of Duty
franchise -
Call of Duty: Black Ops II
- hit $1 billion in sales two weeks after its launch last month.
Other popular videogames include Microsoft's
Halo 4
, in which players kill evil aliens. The game racked up $220 million in global sales on its launch day in November.
Mike Hickey, an analyst at National Alliance Capital Markets, said backlashes against videogames were not rare, but he was unaware of an instance of games being pulled off store shelves in the past.
When the Columbine school shooting happened in 1999, there was a similar outcry because the two perpetrators were students who played the shooter game
Doom
, Hickey told Reuters.
Executives at Hollywood movie studios and TV networks have mostly laid low this week as Americans seek answers to the Newtown slaughter, and discuss how to prevent similar gun violence.
However, content seen as sensitive has been pulled from the airwaves, including an episode of the SyFy TV series
Haven
that contained violent scenes in a high school setting, and the premiere next week of a TLC show called
Best Funeral Ever
.
Discovery Channel canceled a third season of its reality series
American Guns
about a family of gun makers. Some radio stations stopped playing pop star Ke$ha's bubbly new single "Die Young" to avoid any potential offense.
Glitzy red carpet premieres for violent upcoming new movies
Jack Reacher
, starring Tom Cruise, and
Django Unchained
starring Jamie Foxx, were canceled out of respect for the Newtown victims, but both movies will open in theaters as planned in the next seven days.
Insensitive Today, OK Tomorrow?
The Parents TV Council praised the response of the entertainment industry this week, but said it shouldn't be confined to the immediate aftermath of such tragedies.
"If a television network changes its programming because of content that could be insensitive today, why would that same content be appropriate at a later time?," council president Tim Winter said in a statement.
"If producers and performers rightly question whether their industry is complicit in creating a violent media culture that feeds real-life tragedies, why would there be a later time to produce and distribute more of it?," Winter added.
Most major Hollywood stars have remained silent about the potential influence of violent movies on U.S. society. But
Django Unchained
star Foxx was quoted as saying the movie industry should not shirk its responsibility.
"We cannot turn our back and say that violence in films or anything that we do doesn't have a sort of influence," Foxx was quoted as saying while promoting the film in New York.
Director Quentin Tarantino called the Newtown shootings "a horrible tragedy," but in an interview with CNN on Monday he declined to link screen violence with real life events.
"This has gone back all the way down to Shakespeare's days ... when there's violence in the street, the cry becomes 'blame the playmaker.' And you know, I actually think that's a very facile argument to pin on something that's a real life tragedy," Tarantino said.
Source: Reuters; Additional reporting by Malathi Nayak in San Francisco