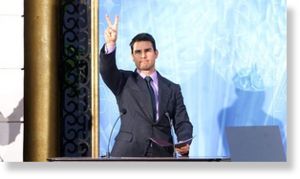 The actor reportedly hired private investigator Anthony Pellicano to tap into a journalist's phone conversation with his lawyer.
Tom Cruise reportedly is embroiled in a $5 million lawsuit with a magazine editor. The
Jack Reacher
star is accused of wiretapping telephone conversations and has been brought in for questioning on Tuesday, December 18.
According to Radar Online, Cruise, his lawyer Bert Fields and a private investigator named Anthony Pellicano conspired to unlawfully tap Michael Davis Sapir's phone. Pellicano, who is now imprisoned, had already been convicted on several charges for wiretapping numerous people.
The Sapir lawsuit, which has its roots in a different legal action, actually was filed in 2009 but Cruise was only able to be questioned Tuesday. He spent three hours at the Mandarin Oriental hotel in New York answering questions. "It was all very secretive," a source told Radar. "This battle has been ongoing and getting to the point where Cruise had to sit for a deposition obviously took a long time."
Sapir first dragged Cruise into legal action back in 2001. He claimed he had a video evidence of the actor in a gay activity and was willing to sell it for $500,000. Cruise sued the editor but settled it after Sapir admitted that there was no such video.
This time, Sapir claimed that Cruise heard from the conversations that Sapir's attorney believed they had a good case but worried the actor had too many financial resources for the editor to fight him. With this new claim, Sapir gained a strategic advantage in the 2001 action. However, "Cruise has denied any wrongdoing all along," the source added.