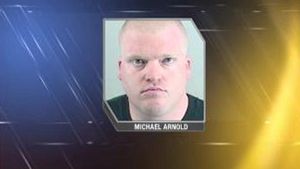 Lone Tree, Colorado - A female inmate claims a security guard sexually assaulted her minutes after giving birth at Sky Ridge Medical Center in Lone Tree.
The 34-year-old Arapahoe County jail inmate claims this happened in September. Her accused attacker is also now in jail.
Under the supervision of the Arapahoe County Sheriff's Office, contracted security guard Michael Arnold was hired to watch her.
But according to court documents obtained by FOX31 Denver, just 15 minutes after the inmate gave birth, the woman claimed Arnold raped her while her newborn infant was in the bed with her.
The sheriff's office would not comment on the story except to say they are aware of the criminal investigation.
Officials say they do contract private security in these situations to save money.
The court documents provide frightening details of the of the woman's allegations.
In them, the woman claimed that the man pulled her head forcing her to perform oral sex. She said that Arnold climbed on top of her, untied her gown and fondled her.
She says she was still in pain from giving birth and was numb from the epidural. She said she thought it was disgusting and because he was a guard with a gun she couldn't say anything.
A nurse came in a short time later and the inmate asked the nurse not to leave.
The inmate claims Arnold told her he had previously been accused of similar things from another woman at Haven House and told her she better not say anything.
When the woman told police, they confronted Arnold. According to court documents he confessed and then called the sex consensual.
According to court documents, Arnold is an employee of C & D Security in Colorado Springs. The owner did not return FOX31 Denver's repeated phone calls inquiring about the man's history or the inmate's claims.
Arnold is in custody in Douglas County charged with four counts related to felony sex assault.
The Arapahoe County Sheriff's Office would not facilitate a jail-house interview with the alleged victim citing Colorado's rape shield law.