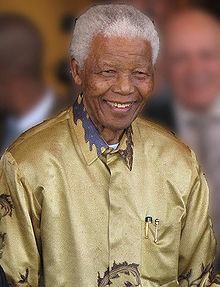 Johannesburg, December 14, 2012 - South Africans seemed satisfied this week that Nelson Mandela's health was taking a turn for the better - until it emerged the government had lied.
Despite a long hospital stay, South Africa was relatively calm after receiving news about the health of Nelson Mandela this week - until it emerged the government had lied (at best, by omission), again. At which point the conspiracy theories broke out, again.
It was a statement remarkable in its sophistry.
"President Mandela is being treated at a Pretoria hospital as said from the first statement we issued," the presidency said on Monday night. "We have refrained from disclosing the hospital in order to ensure privacy and also to allow doctors space to do their work of caring for Madiba without interruptions or undue pressure."
That followed what the presidency called "media speculation"; hours before Eyewitness News reported that Mandela was not, in fact, at 1 Military Hospital, but at another institution - which it declined to name - in the city.
Eyewitness News editor Katy Katopodis said it had confirmed the location with at least four different people, and were confident the report was accurate. Afrikaans daily Beeld also on Thursday uncovered the true location where the former president was being treated.
It remains unclear whether Mandela was transferred to the private hospital during the course of the week, or was there all along, although Beeld cited unconfirmed information that he was admitted under a pseudonym on Saturday.
But the impact of the uncertainty was almost immediate, with assertions springing up on social media networks and circulating via SMS that Mandela already died and his death was being covered up. Thursday night also saw a marked increase in chatter on mediums used by far-rightwing groups who have long been preparing for what they consider an inevitable race war to be triggered by Mandela's death - a replay of events in January 2011, when similar uncertainty prevailed when Mandela was admitted to Milpark Hospital in Johannesburg amid a distinct lack of information.
Misleading
It is hard to fault those who now mistrust all official statements on Mandela's condition, including the information that he has a lung infection but is doing well. During the course of the week two sitting Cabinet members, Defence Minister Nosiviwe Mapisa-Nqakula and Home Affairs Minister Naledi Pandor said, on the record, that Mandela was in 1 Military Hospital. Various off-the-record sources also confirmed such, including staff at that hospital, and military police instituted unusual security measures outside the hospital in what now appears to have been an intentional measure to mislead the media and the public.
And although the presidency never did specify a hospital, it silently ignored the misimpression that Mandela was indeed in the military institution while issuing daily statements on his condition, a lie by omission starkly reminiscent of a failure in January 2011 to correct initial official statements that Mandela would not be admitted to hospital.
Following that debacle, and what both the presidency and the Mandela family decried as unacceptable behaviour, meetings between government officials and media representatives sought to establish a trust relationship, which would enable the public to remain informed about Mandela's health without undue intrusion. Both local and foreign media were involved in the talks, which were subsequently described by all parties as fruitful.
This week that pact seemed to be holding, with few complaints about media conduct, little by the way of panic reactions among the public, and widespread belief that the elderly statesmen was recuperating. The presidency's handling of communication around Mandela's condition was praised - by, among others, the Mail & Guardian.
By late Thursday night, however, conspiracy theories had multiplied to include that Mandela had died in a plane crash, and that an announcement on his death was being held back until after the ANC's Mangaung conference.
After January 2011 - amid exactly such rumours sparked, in part, by confusion between the government, the Nelson Mandela Foundation and Mandela's family on who would communicate with the public about his health - the presidency said it would handle all such matters in future to prevent unnecessary panic and confusion.
Mail & Guardian