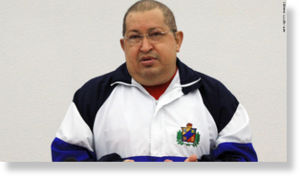 Caracas, Venezuela - President Hugo Chávez of Venezuela experienced complications related to his
cancer surgery
, resulting in bleeding that required "corrective measures," but he was showing signs of recovery, an official said Thursday.
The surgery, which lasted more than six hours, was done in Havana on Tuesday. Ernesto Villegas, Mr. Chávez's information minister, did not say when doctors detected the bleeding or got it under control. But he said that Mr. Chávez was recuperating in a way that he described as "progressive and favorable."
Given how little information the government has released on Mr. Chávez's health throughout the course of his illness, the recent change in its tone suggests that his condition is extremely serious and that there are doubts about how fully he may recover.
On Wednesday, Mr. Villegas had warned the country that Mr. Chávez, 58, might not be able to return to Venezuela by Jan. 10, when he is scheduled to be sworn in for a new six-year term. In that case, Mr. Villegas wrote in a note posted Wednesday on the Information Ministry's Web site, "the people should be prepared to understand. It would be irresponsible to hide the delicacy of the present moment and the days to come."
If Mr. Chávez cannot begin his new term, the Constitution calls for new elections to be held within 30 days. Mr. Chávez has said that if that occurs, his vice president, Nicolás Maduro, should be his party's candidate.
In the note on Wednesday, Mr. Villegas wrote that the operation had been "hard, complex, delicate" and that the period following surgery would be as well.
He urged Venezuelans to treat the situation in the same way as someone who has "an ill father, in a delicate situation."
Despite several announcements this week about Mr. Chávez's surgery, most details about his cancer and treatment have been kept secret since he received the diagnosis in June 2011. Mr. Chávez and officials have refused to say what kind of cancer it is and where exactly in his body it is, other than to say that it was found in the pelvic region.