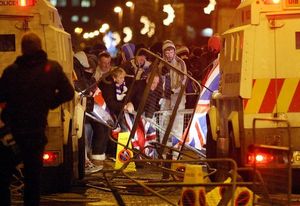 RUC/PSNI officers have been injured and the Alliance Party's office in Carrickfergus Co.Antrim, has been attacked and burned after trouble flared following a loyalist flag protest.
Two men and two women have been arrested following the violence.
Police said that about 1,500 people had gathered at the Irish Gate roundabout earlier on Wednesday.
They were protesting against Belfast City Council's decision to stop flying the union flag every day.
The crowd dispersed after baton rounds were fired by the RUC/PSNI but many of the lawless mob stayed behind which allowed trouble to break out and missiles, bottles and masonry were thrown at police.
The violence continued in nearby West Street, where Alliance MLA Stewart Dickson has a constituency office.
It was ransacked and the rioters tried to set it on fire. The building has been smoke damaged.
Police have said a number of officers were injured in the riot.
By 22:20 GMT on Wednesday, police said that the trouble had come to an end, although they were maintaining a heavy presence in Carrickfergus.
Meanwhile, Alliance leader David Ford has requested that the 'Northern Ireland' Assembly be recalled on Thursday to discuss the attack.
He said what had happened was "a direct assault on democracy of the worst possible kind".
"I believe there is now a heavy responsibility on Peter Robinson and Mike Nesbitt to provide an alternative kind of leadership which would divert people away from the kind of trouble," he said.
DUP MP Sammy Wilson has condemned the attack.
"People are entitled to peacefully protest but there is absolutely no justification for the carnage which has been caused in Carrickfergus this evening," he said.
"Those involved do a disservice to the flag they claim to defend. Today, in the House of Commons, several MPs backed the union flag being flown from city hall, however this criminal behaviour undermines and distracts from the argument.
"I urge those involved to step back from this criminal activity and channel their energies through democratic politics."
Ulster Unionist leader Mike Nesbitt MLA said violence was legally and morally wrong.
"What unionism needs today is brains, not brawn. We need an analysis, a strategy and an agreed outcome.'
"I am happy to talk to anyone, if they commit to repent and desist from violence."
Jim Allister, TUV, said the violence was "utterly wrong" and was not the way forward.
Meanwhile, in the centre of Lurgan, County Armagh, another loyalist flag protest has taken place.
Belfast City hall Violence
The Loyalist mob who stormed onto the grounds of Belfast City Hall and clashed with police on Monday night after the council voted in favour to remove the British flag from the building for most of the year are alleged to have caused at least 18 individuals being injured.
The RUC/PSNI said fifteen of their officers and two city council security guards were injured during the hour-long riot outside city hall with the lawless mob.
The violence also flared in the predominantly British Unionist area of east Belfast, where passing Loyalist crowds continued with their protest, throwing bricks and bottles at Catholic homes and church in the mainly nationalist area of the short strand, also allegedly hijacking a bus.
Also injured outside the city hall was an Associated Press photographer who described being clubbed by at least one PSNI officer as he found himself trapped between baton-swinging armed officers of the PSNI and the Loyalist crowd near the rear iron gates.
He suffered a head wound and a broken finger which is expected to require plastic surgery.
"A club came down on my hand as I was taking pictures and caught my finger really bad. It was right on the camera trigger. There's blood all over my camera," photographer Peter Morrison said in an interview from his bed at Belfast's Royal Victoria Hospital.
"The police appeared to be panicked and thought they were going to be overrun by the crowd. They were shouting and screaming at the crowd to get back in the street," said Morrison, a Belfast native who has covered many the North of Ireland's riots for the past two decades.
He said a police club also gashed his head, requiring stitches.
More than 1,000 Flag waving loyalists had rallied outside as council members voted 29-21 to remove the British Union Jack from the building for all but 17 designated days each year. The British flag had flown continuously from the city hall's dome for more than a century.
Some in the crowd smashed through the locked rear gates, vandalized staff cars and fought with police. Many concealed their faces with hats, hoods and scarves to make it hard to identify them through photographs or TV footage. Some threw golf balls, fireworks, bricks and smoke bombs at police lines, and a few climbed on top of police armoured cars in the street outside and planted British flags on top of the vehicles unchallenged by the police.
The scene underscored deep-seated divisions that persist in the North of Ireland despite its politicians broadly claiming success with the 'peace process', but has appeared to have done little to unite society at grass-roots level.
Many parts of Belfast continue to remain divided into Irish and British districts demarcated by high walls called "peace lines".
Belfast once had a Protestant majority, but a growing Catholic community means today's council has 24 from the Irish nationalist side and just 21 from the British unionist side.
Inter-communal tension had been growing since Nationalist council members last month proposed a motion to remove the British flag completely from the dome of the 106-year-old building. It sits in central Belfast.
Council staff removed the flag at 6.58am on Tuesday. It will now only be flown on 18 designated days.
The RUC were also attacked with bottles and bricks in the Albertbridge Road and Templemore Avenue areas of east Belfast by the Unionist mob.
Three people were arrested - two teenagers in east Belfast and a 22-year-old man in Donegall Square in the city centre.
First Minister Peter Robinson condemned the violence but said the decision to remove the flag was "provocative".
'Damaged relations'
In a statement, the DUP leader said: "There is no excuse or justification for attacks on police officers, council staff, and property."
However, Mr Robinson added: "The decision to pursue the removal of the flag from city hall and other council buildings, despite warnings of the likely consequential impact on community relations, was foolish and provocative.
"Those who talk most about building community relations have by their actions in the council substantially damaged relations across the city."
Nationalists wanted the union flag taken down altogether, but in the end voted on a compromise from the Alliance party that it would fly on designated days.
The vote was 29 to 21, with unionists accusing the Sinn Fein, the SDLP and Alliance of attacking their cultural identity.
'Orchestration'
Sinn Fein Policing Board member Gerry Kelly said the police operation had been completely inadequate."Clearly there was a level of orchestration - some people brought bolt cutters, others put on masks immediately after the vote came through"
"If that had been 1,000 or more republicans out there they would not have left it that they were able to come into the back of city hall."
However, Chief Superintendent Alan McCrum said: "We put in place last night a considered police operation, a substantial police operation - there were dozens, in fact scores of police officers deployed there.
"There was nothing to suggest before last night that there was going to be any significant violence."
He added: "Put the responsibility on the people who actually committed the criminality.
"Clearly there was a level of orchestration - some people brought bolt cutters, others put on masks immediately after the vote came through."
Justice Minister David Ford said some unionist politicians had to share some of the blame for the disturbances.
"The violence which took place at the city hall and round St Matthew's Church (in east Belfast) was the responsibility of two groups of people," he said.
"The first is those who went to the city hall spoiling for a fight, who attacked police officers and council staff.
"But there is a second group which bears responsibility. DUP and UUP politicians fomented this protest, with both leaflets and the use of social media.
Social Media orchestration
Further loyalist mob rule is expected as social media such as Facebook is being used to organise further unrest in Glengormley at 4pm on Thursday and Cloughfern on Friday both in the Newtownabbey area and Belfast City Centre on Saturday.