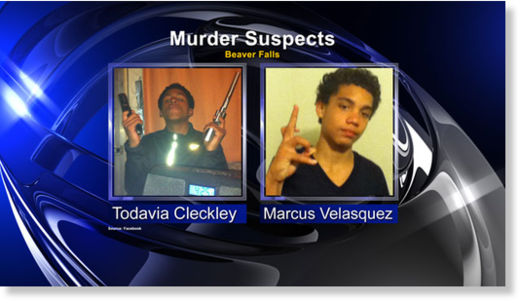 Beaver Falls - Police are searching for two 14-year-old boys, and reported a 13-year-old who are charged as adults with fatally shooting a Beaver Falls woman.
Beaver Falls police have charged Todavia Cleckley and Marcus Velasquez with criminal homicide and other charges in Saturday's shooting of 22-year-old Kayla Peterson. She was shot at a house about 3:30 p.m. that day and died at Allegheny General Hospital two hours later.
Cleckley's Facebook page shows a young man posing with a revolver in one hand and a pistol in the other. The photo was posted less than 12 hours after Peterson's shooting.
Online court records show police were still searching for the suspects. According the the
Beaver County Times
a third boy, a 13-year-old has also been charged in the shooting.
Beaver County District Attorney Anthony Berosh says he intends to prosecute both as adults.
Source: KDKA and The Associated Press