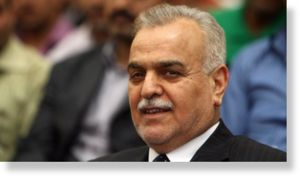 Baghdad - An Iraqi court on Sunday found the nation's Sunni vice-president guilty of running death squads against security forces and Shiites, and sentenced him to death in absentia.
Tariq al-Hashemi, who has denied the charges, was not in court to hear the verdict against him. He fled the country after the terror charges were levelled against him in December, and is currently in Turkey.
The Baghdad courtroom was silent Sunday as the judge, who said his name could not be released for fear of violent reprisals, announced the verdict convicting al-Hashemi and his son-in-law of the killings of a lawyer and a security official. The two were acquitted in a third case for a lack of evidence, the judge said.
The charges against al-Hashemi, one of the country's highest-ranking Sunni officials, have fueled simmering Sunni and Kurdish resentments against the Shiite prime minister, who critics claim is monopolizing power, and led to a near-paralysis of Iraq's government.
A spokesman for al-Hashemi did not have an immediate comment and said the vice-president would release a statement Sunday evening.
The trial, which opened this spring, held a total of 10 hearings and featured testimony from the vice-president's former bodyguards, who said they were ordered, and then paid, to launch the attacks. Government forces who found weapons when they raided al-Hashemi's house and that of his son-in-law also testified in the case, as did relatives of the victims.
Iraq's Shiite-led government has accused al-Hashemi of playing a role in 150 bombings, assassinations and other attacks from 2005 to 2011 - most of which were allegedly carried out by his bodyguards and other employees.
The charges against the vice-president span the worst years of bloodshed that followed the 2003 U.S.-led invasion of Iraq as retaliatory sectarian attacks between Sunni and Shiite militants pushed the country to the brink of civil war. He has been in office since 2006.
Al-Hashemi has claimed that his bodyguards were likely tortured or otherwise coerced into testifying against him.
Source: The Associated Press and The Canadian Press