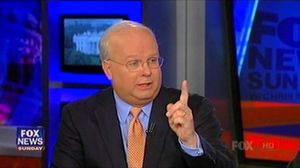 At a Thursday morning fundraiser for his super PAC, former Bush political strategist Karl Rove told an audience of billionaires and influential investors that a chance for Republican control of the Senate is in jeopardy, then made a joke about Rep. Todd Akin (R-MO) being "mysteriously murdered."
"We should sink Todd Akin," he said,
according to Bloomberg Businessweek reporter Sheelah Kolhatkar
. "If he's found mysteriously murdered, don't look for my whereabouts!"
Rove added that there are "five people" interested in challenging Akin, potentially through a write-in campaign. "We don't care who the nominee is, other than to get Akin out," he reportedly said.
Rove has led a chorus of Republicans
who want the embattled Missouri Senate candidate to pull out of the race after
Akin told a reporter
that women have some kind of biological defense against pregnancy in cases of what he called "legitimate rape."
Democrats pounced on those remarks and used them to remind voters that Akin's views on abortion and women's health issues are not much different from most other Republicans',
including Mitt Romney's running mate Rep. Paul Ryan (R-WI)
. Both Akin and Ryan co-sponsored a bill that would have denied federal assistance to rape victims unless they qualify for what they called "forcible rape."
Despite Rove's efforts to force him out of the race, Akin still enjoys some support from social conservatives like
former Arkansas Gov. Mike Huckabee (R)
and
former Sen. Rick Santorum (R-PA)
. Akin says
he's determined to keep campaigning
all the way through November.
A survey published Thursday
by the Democratic-affiliated Public Policy Polling group found that Akin is virtually tied with Sen. Claire McCaskill (R-MO), with 44 percent of survey respondents favoring McCaskill and 43 percent favoring Akin.