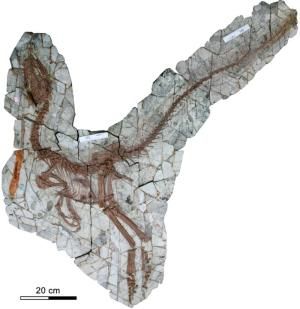 University of Alberta researchers found evidence that a feathered, but flightless dinosaur was able to snag and consume small flying dinosaurs.
The U of A paleontology team found the fossilized remains of three flying dinosaurs in the belly of a raptor-like predator called
Sinocalliopteryx
.
Sinocalliopteryx
was about two meters in length and roughly the size of a modern-day wolf.
Sinocalliopteryx's
flying meals were three
Confuciusornis
.
Confuciusornis
was one of the earliest birds and had a crude version of a modern bird's skeleton and muscles. The researchers say such primitive birds were probably limited to slow take-offs and short flights.
According to the researchers, this is the first time a predator has been linked to the killing of multiple flying dinosaurs.
Scott Persons, a U of A paleontology student and research coauthor, says
Sinocalliopteryx
may have used stealth to stock the flyers. "
Sinocalliopteryx
didn't have wings or the physical tools needed to be an adept tree climber," said Persons.
Persons explains
Sinocalliopteryx
had feathers or hair-like fuzz covering its body creating a level of insulation that helped maintain a warm body temperature and high metabolism that required a lot of food to fuel.
"The fact that this
Sinocalliopteryx
had, not one, but three undigested birds in its stomach indicate it was a voracious eater and a very active hunter," said Persons.
This find was made in China's Liaoning province, and U of A researchers analyzed stomach contents of a second
Sinocalliopteryx
fossil discovery from that area. The researchers identified this
Sinocalliopteryx's
last meal as a
Sinornithosaurus
, a small feathered meat-eater about the size of a house cat that may have been able to fly or glide short distances.
"
Sinornithosaurus
is a relative of
Velociraptor
which means this is the first direct evidence of a raptor becoming another predatory dinosaur's meal," said Persons.
Journal Reference:
Lida Xing, Phil R. Bell, W. Scott Persons, Shuan Ji, Tetsuto Miyashita, Michael E. Burns, Qiang Ji, Philip J. Currie. ''Abdominal Contents from Two Large Early Cretaceous Compsognathids (Dinosauria: Theropoda) Demonstrate Feeding on Confuciusornithids and Dromaeosaurids.''
PLoS ONE
, 2012; 7 (8): e44012 DOI:
10.1371/journal.pone.0044012