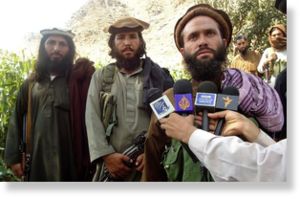 Islamabad, Pakistan - NATO forces said on Saturday that they had killed a senior Pakistani Taliban commander in an airstrike in Afghanistan, highlighting the increasingly complicated nature of the fight against Islamist militants along the border between Afghanistan and Pakistan.
Mullah Dadullah, who led the Pakistani Taliban in the Bajaur tribal agency, was killed late Friday in a strike on a compound across the border in the Afghan province of Kunar, NATO and Pakistani intelligence officials said.
The Kunar police chief, Gen. Elwaz Mohammad Naziri, said 12 other militants, including Mullah Dadullah's deputy, were also killed.
The death of Mullah Dadullah, a former prayer leader who rose through the Taliban ranks to become a commander, will have an impact on the fighting in Bajaur, where the Pakistani Army has been battling the Pakistani Taliban since 2008.
But it may also offer an opportunity for a fresh turn in the relations among NATO, Pakistani and Afghan forces along the porous border, which have been marred by acrid recriminations in recent months.
Pakistani officials have publicly accused NATO of failing to stop Taliban fighters sheltering in the Afghan provinces of Kunar and Nuristan, from which American forces have largely withdrawn, from carrying out attacks inside Pakistan.
The protests reached a crescendo in June after a Taliban ambush killed 13 Pakistani soldiers, 7 of whom were beheaded. Some Pakistani officials have gone as far as to accuse NATO and Afghan forces of secretly supporting the insurgents.
The Afghan government has replied by saying that Pakistan's military regularly fires artillery salvos across the border into remote Afghan villages, killing scores of civilians. Tensions between border police on both sides have flared into gunfire several times in the last month.
NATO officials, meanwhile, note that Pakistan has failed to crack down on much larger Afghan Taliban sanctuaries inside its own territory - particularly in North Waziristan, farther west along the border, where the Haqqani network holds sway.
There, the campaign against the Taliban is being led by Central Intelligence Agency drone strikes, which have attacked targets in North Waziristan on four of the last eight days. Senior American officials say one of the strikes may have killed Badruddin Haqqani, the operational leader of the Haqqani network.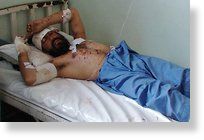 Now, Mullah Dadullah has become the most senior Pakistani Taliban commander to be killed by NATO in Afghanistan.
In Kabul, the Afghan capital, Gen. John R. Allen, the top commander of American and NATO forces in Afghanistan, described Mullah Dadullah as "an extremely dangerous militant" and said his death was part of a broader attempt at greater cross-border cooperation with Pakistan.
"We also have long believed that close cooperation with our Pakistani partners is critical in combating the menace of terrorism, and dealing with this target furthers that objective," General Allen said in a statement.
NATO said Mullah Dadullah was important on the Afghan battlefield, too. In another statement, the military alliance said he "was responsible for the movement of fighters and weapons, as well as attacks on Afghan and coalition forces."
A spokesman for Pakistan's military was not immediately available for comment. But Asad Munir, a retired Pakistan military brigadier and former intelligence chief in Peshawar, said Mullah Dadullah's killing was a "very calculated move that is likely to be appreciated by our army."
"Their complaint has been that American and Afghan forces are not targeting the Pakistani Taliban," he said. "This is a good sign."
Mullah Dadullah, also the name of an Afghan commander of the Taliban who was killed in 2007, was the nom de guerre of Jamal Said, a prayer leader from the village of Damadola, in Bajaur. He rose through the ranks of the Pakistan Taliban and in 2008, headed its vice and virtue department, enforcing strict edicts based on a narrow interpretation of Islamic texts.
He became a commander in Bajaur after the Taliban leadership fired his predecessor, Maulvi Faqir Muhammad, for engaging in unauthorized peace talks with the Pakistani government.
Mr. Muhammad now leads a rival Taliban faction, which is also based in Afghanistan and has been attacking Pakistani border posts. His troops have clashed with those of Mullah Dadullah in the past month, a local reporter from Bajaur said by telephone.
Graham Bowley contributed reporting from Kabul, Afghanistan, Ismail Khan from Peshawar, Pakistan, and an employee of
The New York Times
from Kunar Province, Afghanistan.