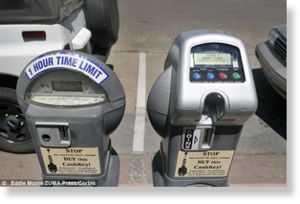 A Santa Monica, California, woman claims that the city's new parking meters are causing her to have ear infections and tightness in her neck - so she wants the city to pay her billions for the inconvenience. Denise Barton has demanded the city pay her $1.7billion for the damage done since the new meters were installed in April and $1.7million every month thereafter.
The city has denied the meters emit dangerous levels of radiation, saying the WiFi 's range is only five to eight feet and is on par with other consumer electronics. 'I know it seems a little big,' said Barton, a well-known local activist, to the
Santa Monica Daily Press
. 'But they can't do things that affect people's health without their consent. I think that's wrong.'
She says the city began rolling out the new meters in April and her problems started shortly thereafter. The smart meters use wireless signals to process credit cards and monitor when a car arrives or departs. A month after the devices were installed, Barton went to a doctor for an ear infection and needed antibiotics. Barton believes that the radiation emitted by the smart meters is harming her health.
Barton was in a car accident as a child and suffered neurological damage.
'I'm sensitive to to radiation due to cat scans, some with injections of radioactive dye, as a child,' she wrote in the claim, according to
Patch
.
She cites a study by the World Health Organization that low-level radiation might cause cancer and other illnesses as the origin of her concern.
'This is just blatant negligence,' she said. 'The city didn't do enough research.'
Some experts have dismissed her claims as 'frivolous
UCLA's Chief of Radiology, Christopher Cagnon, said that Barton's argument will be difficult, if not impossible to prove.
'Anything is possible, but the risk has never been proven - ever,' he said.
Don Jose, a Pennsylvania-based attorney who specializes in radiation litigation, echoed Mr Cagnon.
'Radio waves are not known to have any effect on people at any level,' he said, calling Barton 'a nut case.'
Similarly, City Hall is not interested in her plight.
'We're not concerned about any health risks,' assistant finance director Don Patterson told
ABC
.
'It basically uses a very weak WiFi signal that only communicates between the meter and the sensor in each space.'
He called the technology 'off-the-shelf' and noted that the city doesn't regulate communication.
'What we're using is what basically is widely available cell phone technology,' Patterson said.
'If you have WiFi in your house, it's the same technology. If you have a cell phone, then that portion of the technology is the same.'
The city has 45 days to respond to her claim, which is the largest settlement sum sought in Santa Monica's history.