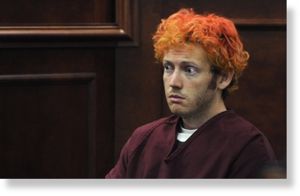 William Sylvester, the judge presiding over the criminal case against James Holmes decided on Monday that most of the documents in his case should remain sealed, but he
did release some documents
, which at least provide a clue to what evidence is going to come into play during the trial of the accused
Aurora, Colorado movie theater shooter
. A cadre of news organizations filed a motion (
PDF
here) last week asking Judge Sylvester to lift a gag order he's placed on the University of Colorado preventing the sharing any information related to Holmes, and to open sealed court documents, but the judge largely refused the request, and only allowed the release of 34 documents in the case, mostly boilerplate motions or motions already discussed publicly,
the
Denver Post's
Jessica Fender reported. But there is some interesting stuff in the limited document release, at least insofar as it suggests much more that has yet to be disclosed.
The newly released documents, raw copies of which the alternative weekly
Westword has posted online
, include a list of hearings and motions made in the case so far, such as the judge's order to prosecutors to turn over some kind of video evidence, and the defense team's request to quash a subpoena of his records from the University of Colorado. They also included a request by Holmes's attorneys to have him sit at the defense table instead of in the jury box, where he had been placed in previous hearings for his safety,
The Associated Press reported
.
But the records most journalists have been salivating over, which
Reuters
listed as "affidavits of probable cause, subpoenas, arrest warrants, search warrants, and requests for or court orders for production of records," will remain sealed for the time being.