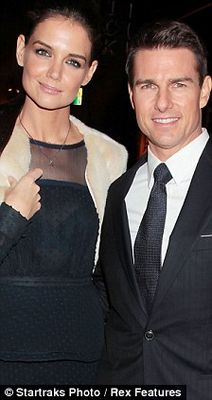 Two long-suffering wives have finally dumped their high-profile husbands. Katie Holmes has filed for divorce from Tom Cruise, demanding sole custody of their daughter Suri.
Tom seems to relish playing dorks - in his latest film Rock Of Ages, he is Stacee Jaxx, a repulsive singer in a heavy metal band,who performs stripped to the waist, a bold move for a chap turning 50.
Sadly, the film, like his marriage, has bombed - according to this paper, it's 'crass when it should be comic' - but did weirdo Tom ever have a sense of humour?
The man who leapt on a sofa on Oprah, declaring his love for Katie in 2005, has never seemed to be an earthling, more an alien dropped from outer space, striving to appear 'normal', but not quite succeeding.
Plus, he's a Scientologist - this controversial cult is coming under increasing attack from former members in the U.S. over its training and fundraising. Meanwhile, Anne Sinclair, one of France's most successful journalists and TV presenters, has thrown out her errant husband, former head of the International Monetary Fund, Dominique Strauss-Kahn.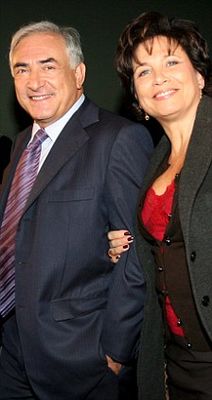 He was charged with attempting to rape a chambermaid in New York last year, though the case was dropped for lack of evidence. He's on bail in France charged with conspiring with pimps to secure girls for sex parties.
Throughout everything, his wife has remained loyal, claiming that feminists had no right to judge her marriage. Now, with a new job as editor of the Huffington Post website in France, she's finally had enough and kicked him out.
What makes these clever women remain married for so long? Katie Holmes is bound to have signed a gagging order when she tied the knot, so we will never know, but Anne Sinclair remains a mystery. She already had fame and financial security when she married in 1991. Was DSK that good in bed?
Few women are as lucky as Katie Holmes or Anne Sinclair, who can afford top lawyers. The British legal profession earns a fortune by making separations and divorce settlements as complicated as possible. Lawyers prolong disputes to increase the fees they make from thin-skinned clients.
The divorce rate here is at its lowest for 40 years - thought to be because women are marrying later, at 30 on average. Many want to establish careers or earn a decent wage. Another reason for the drop in divorce could be the legal costs in a recession - many women are in marriages that have ended long ago.
David Cameron is considering changing the law to give unmarried couples more legal rights. I disagree: there must be one kind of legal partnership and that is marriage. But the institution urgently needs re-branding and selling to a younger generation who see it as out of date.
The courts are clogged up with couples who have never married, arguing over details such as who gets the dogs, access to the children and how property should be split.
If I had my way, there would be massive tax incentives to encourage marriage and all newlyweds would sign a legally binding document that sets out what will happen in the event of a breakdown. A marriage may not be for ever, but the parting should not be painful, whether you're rich or poor.