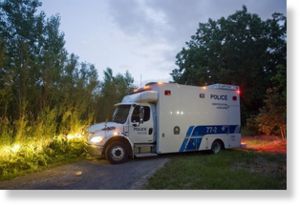 Montreal - A published report says Montreal police have found human remains linked to alleged killer Luka Rocco Magnotta.
Radio-Canada is reporting that body parts were found in a Montreal park on Sunday.
Montreal police spokeswoman Anie Lemieux says the remains were found after a link with Magnotta.
Police are not saying who told them about the possible links with Magnotta.
Magnotta is accused of the murder and dismemberment of Concordia University student Jun Lin.
Lin's torso was discovered stuffed in a suitcase behind Magnotta's apartment building. His hands and feet were mailed to political parties in Ottawa and two B.C. schools.
Source: The Canadian Press