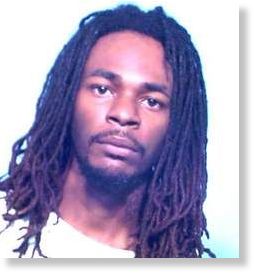 A 26-year-old man was arrested late Friday night and formally charged Saturday in the death of Heaven Sutton who was shot in front of her Chicago home.
The
Chicago Sun-Times
reports Jerrell Dorsey has been charged with one count of first-degree murder and one count of aggravated battery with a firearm.
Last Wednesday evening, Heaven was outside her home with her mother and some friends. The little girl, who was to enter Grade 2 next year, had a stand where she sold lemonade and candy. She had just finished for the night and was sitting with her mother.
Shortly after 10:30 p.m., two men walked up and began shooting into the crowd. Heaven was hit once in the chest and was taken to Loyola University Medical Center where she later died. A 19-year-old man was shot in the ankle. The shooters then fled.
Heaven was the 253rd person murdered in Chicago this year.
According to police, the shootings were gang related. The
Chicago Tribune
reports the 19-year-old man who was shot is allegedly a member of the Mafia Insane Vice Lords who are at war with the Four Corner Hustlers. Dorsey is believed to be a member of one of the gangs.
CBS
reports the family had just moved into the neighbourhood six months ago. Heaven wanted to move again because she was scared; the area is plagued by shootings and other violence.
After the arrest was made, Ashake Banks, Heaven's mother, thanked the Chicago Police Department and her neighbours for the quick arrest but cautioned there are still others out there responsible for the death of the little girl who just had her hair done in preparation for a trip to Disney World. Banks was quoted by
CBS Chicago
as saying, "I feel a little bit better. Maybe I can get some rest tonight."
In a city where murders are an everyday occurrence, the killing of Heaven caused outrage. As reported by the
Chicago Sun-Times
, after the arrest, Mayor Rahm Emanuel issued a statement saying,
I would like to thank the Austin community for working with the Chicago Police Department to provide leads in the shooting death of seven-year-old Heaven Sutton. No parent should have to endure this type of pain. Bringing Heaven's shooter to justice will not bring her back, but I hope it will provide some level of solace to her family.
Heaven's funeral is set for Friday at 11 a.m. The family is requesting help with the funeral and donations to the Heaven on Earth fund can be made at any U.S. Bank branch.
Dorsey is scheduled to appear in court on Sunday.