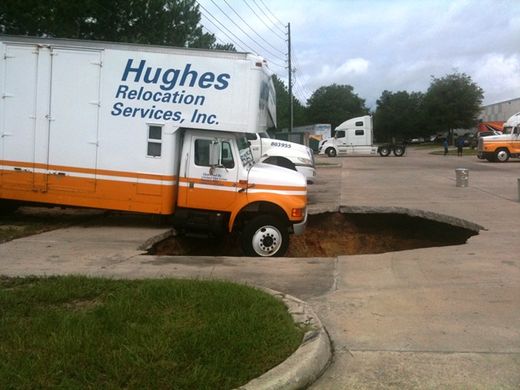 Severe weather from Tropical Storm Debby overnight has left a mess Monday morning in Marion County, where emergency managers said a tornado may have touched down.
Marion County emergency managers reported a possible tornado touchdown around 11 p.m. in Ocala, near Highway 326 and Northwest 80th Avenue, about six miles southwest of Lowell.
Officials said six to seven buildings were damaged, including a barn with a damage roof. The damage reportedly spanned a mile to a mile and a half north to south.
The storm knocked down trees, left debris along the roadways and caused some flooding around storm drains in the area.
"I was in bed and it woke me up," said Joanne Stover, who lives near the reported touchdown. "It sounded like a train, and the house started moving. Then it was just over."
Limbs from some trees have been caught up in some power lines, knocking out power for more than 2,000 customers.
Progress Energy said it is working to get the lights back on to all its customers.
Marion County remains under a tornado watch until 11 p.m. Monday.
Sinkholes open up; Sandbagging operations begin in Ocala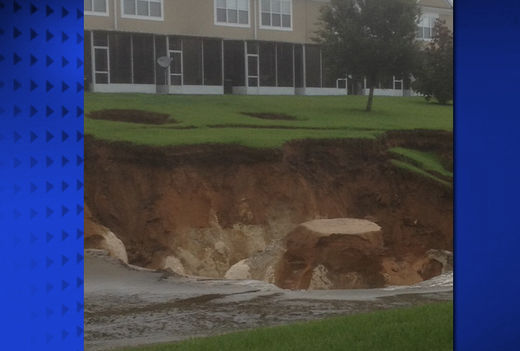 After nearly 24 hours of non-stop rain in Marion County neighborhoods, some were turned into waterfront homes with water creeping closer and closer to doorsteps.
Ocala dispatched state prisoners, who were in water up to their necks trying to pump water out of neighborhoods into storm drains.
Several homes in the Heritage Hills area were completely cut off by the floodwaters. Most neighbors moved their cars to higher ground Sunday night. It was a big problem for one resident, Shirley Fielitz, who doesn't drive.
"I've got a doctor's appointment. Marion Transit usually picks me up, but I'm going to have to call and make some arrangements for them to get me if it's not emptied," Fielitz said.
Just off of State Road 50, a sinkhole opened up with a United Truck Rental truck sitting on top of it. The truck's front tires are precariously on the edge, and looks like it might topple.
Another sinkhole prompted evacuations from eight homes in the Fore Ranch subdivision, according to Ocala police.
Maria Mendoza said she is nervous about her property and can see the sinkhole from her home.
"I'm hurt because this is my safety and this is what I have," said Mendoza.
Police said a perimeter around the sinkhole has been secured, but it does not ease the mind of some who live here.
"We are upside down as it is. This is all we have. I don't know, all I know is that the bills, they keep coming, the homeowners association keeps coming," she said.
Another resident, Kourtney Stoer, said sinkholes have been a problem in the past.
"All of us bought these homes here and didn't realize they were so many sinkholes, this area is so susceptible, and it's just been one after the other," Stoer said.
David Anderson agreed and added, "now with the economy the way it is, the housing market in the toilet, and you throw in three or four sinkholes, who would want to come here."
The Sharpes Ferry Bridge is closed after part of the retaining wall gave way overnight.
"It's fixing to flood in my house right now. It's already flooded one time. Water overflowed into three apartments down there," said homeowner Robert Harrison.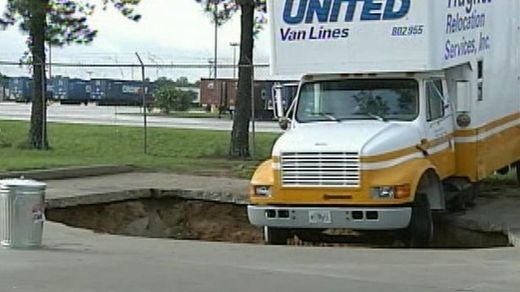 As the community continues to battle with the effects of Tropical Storm Debby, City of Ocala crews have been working through the night responding to power outages and flood reports.
A sandbagging operation has been started at Tuscawilla Park at the 800 block of NE Sanchez Avenue. A truckload of pre-filled sandbags is at the location. Bags can be filled at a station established at Martin Luther King Jr. Recreation Complex off West Silver Springs Boulevard.
A station has also been set up at Jervey Gantt Park on the SE 24th Street side. There is a 10 bag limit per vehicle.
East State Road 40 at the 3600 block remains closed due to flooding.
City street closings include Martin Luther King Jr. Avenue between S.R. 200 and SW 17th Street; NE 4th Street at 18th Avenue and NE 4th Street at 17th Avenue in the Heritage Hills area; Watula Avenue between NE 5th and 9th streets; and SE 12th Street at SE 3rd Avenue.
The city has set up three additional pumps at the drainage retention area in the Heritage Hills area where flooding has forced the street closings. Water is being pumped at the retention area off NE 26th Avenue near S.R. 40 and at the 3100 block of East S.R. 40. Pumping operations also are under way at the retention area off NW 26th Terrace next to New Bethel Baptist Church.
From 5 p.m. Sunday through 8 a.m. Monday, Ocala Utility Service crews responded to 36 power outages affecting 1,652 customers. The outages occurred in all sections of the utility's service area.
Wells may need to be disinfected
Tropical Storm Debby may leave a lasting effect behind besides fallen trees.
The Marion County Health Department is advising private well owners to take precautions to make sure their well water is safe to drink:
Boil water for at least one minute at a rolling boil for drinking, washing, cooking, etc.
Disinfect a gallon of water with 1/8 teaspoon of unscented household bleach
Use bottled water
Once the floodwaters subside:
Disinfect the well using procedures from the environmental health section of the health department
Have your well water tested by a laboratory