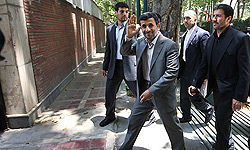 Iran's President Ahmadinejad arrived in Caracas on the last leg of his tri-nation tour of Latin American, which also took him to Bolivia and Brazil.
Upon arrival in Caracas on Saturday morning, the Iranian president was welcomed by senior Venezuelan officials.
Ahmadinejad and his Venezuelan counterpart Hugo Chavez are due to meet later today to discuss bilateral ties and international issues.
President Ahmadinejad left Tehran for Latin America on Monday night. After visiting his Bolivian counterpart Eva Morales in La Paz, Ahmadinejad left the Bolivian capital La Paz for the Brazilian city of Rio de Janeiro to attend the Rio+20 Summit.
He had stopped in Bolivia en route to Brazil and was welcomed by Morales at the El Alto airport on Tuesday.
Delegates from around the world will descend on Rio de Janeiro this week for 'Rio+20' summit, a major United Nations meeting on the environment. The event will commemorate the 20th anniversary of the first 'Earth Summit'.