'In-app' purchases allow children to rack up bills
'Game currency' purchased with real money
Bills of up to £1,300 from 'free' apps
Parents whose children have accidentally run up huge bills playing games on their iPhones could be in line for compensation from Apple.
Campaigners are awaiting the result of a U.S. court case in which a group of disgruntled parents are suing the company after their children's innocent game playing ended up costing a fortune.
They accuse Apple of enticing children to spend money on iTunes
If the parents are successful, it could open the door for legal actions worldwide.
Apple, which is worth more than £311billion, has repeatedly been criticised for allowing children to spend hundreds of pounds on games using their parents' iPhones.
Apps such as
Smurfs' Village
, based on the popular books and film, have repeatedly caught out parents. Although some apps are free to download, playing them can incur charges. As the child collects 'game currency', the bills can mount up.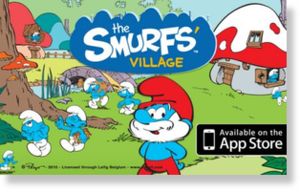 The U.S. court papers state: 'These games are highly addictive, designed deliberately to be so, and tend to compel children playing them to purchase large quantities of game currency, amounting to as much as $100 (£62) per purchase or more.'
Youngsters don't need to supply credit card details, as the costs are usually charged to the parents' iTunes accounts which are already linked to card details. It could take up to 24 hours for parents to find out about the huge bills.
Marc Gander of Consumer Action Group, which led the revolt against UK bank charges, said: 'I think a U.S. court case will help a great deal in the UK.
'I would have thought that an angry parent could bring a fairly simple and very cheap action in the county court to recover their money.'
Apple has already been forced to change security settings on its iPhones in a bid to stop children innocently racking up huge bills. But some parents do not realise they can block their children from using their credit card details.
In December, the
Mail
revealed how seven-year-old Jack Drager ran up a £1,300 bill on an iPad in four days after his mother Heidi, 32, downloaded the Tap Zoo app for him free of charge.
The Dragers, from Barnsley, didn't realise that some of the animals on the game cost up to £79.99 each. Apple agreed to refund the bill.
Apple said it was easy for parents to activate security settings and stop children running up charges.